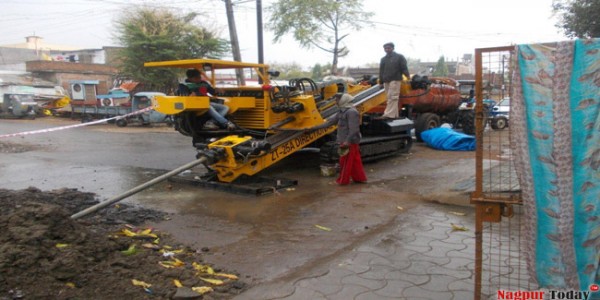 Nagpur News : In a bid to avoid road cuttings and digging of internal lanes especially in congested and densely populated localities, the Orange City Water (OCW) that is delivering the ambitious vision of Nagpur Municipal Corporation (NMC) to provide fully pressurized, uninterrupted water supply to every citizen, has now embarked upon a new method known as the 'trenchless technology', for laying of main pipeline.
It may be mentioned here trenchless technology is an innovative technique for laying underground pipeline without any excavation from the ground surface. OCW has started utilising such technology to minimise traffic disruptions and chances of disturbing existing utilities. The new method also reduces the danger for community.
Till date OCW has replaced almost 20 km HDPE (High Density Poly Ethylene) pipes by using this innovative method in the densely populated areas of Wanjari Nagar ESR area and Reshimbagh ESR area. Further, with the same method OCW is now carrying out its work in Dhantoli and Chandramani Nagar PTS quarters area. Meanwhile, recently with addition of Bastarwadi Proposed-II, Part A command area, now changing of pipelines activity under ambitious uninterrupted water supply project is going on in full swing in 12 command areas including Dhantoli ESR, Nandanvan, Shantinagar, Binaki, Deshpande Layout, Bazonbagh, Wanjari Nagar, Boriyapura Feeder, Boriyapura ESR, Reshimbagh, Nandanvan proposed ESR and Gandhibagh (Sitabuldi Fort-1) command areas.
It must be mentioned here, OCW has successfully replaced over 113 Km new pipeline (Up to Feb 3, 2013) across city. Under the project OCW has been replacing the old and leaking water network in the areas using HDPE (High Density Poly Ethylene) pipes.
It may be mentioned here, along with actual rehabilitation work of the uninterrupted (24×7) water supply project, OCW is also replacing old, rusted pipelines that were supplying contaminated water in many parts of city pipelines under 'Emergency Works.' About 13314 meters (13.16Km) pipeline has also been successfully replaced under emergency works.
During the rehabilitation work, OCW has also been taking all necessary safety steps to avoid accidents like installation of barricades, safety tapes, display boards during digging of roads, streets, inner lanes and other such activities that is required for the fulfilment of project.
Along with various other activities like setting up Water House especially to listen to complaints related with rehabilitation work, organising one-to one interaction with local corporators, Mohalla Sabha's for community, house-to house communication OCW has also started its '24×7 Call Centre' to address citizens problems and complaints in entire city with a Toll Free Helpline- No 1800-266-9899.