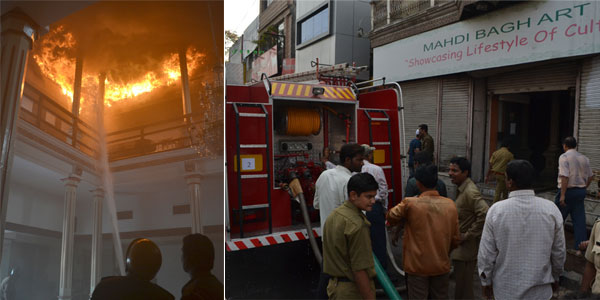 Nagpur News.
A major fire broke out on Monday at an art shop on Residency Road near Sadar gutting the goods worth lakhs of rupees. The property also got damaged up to 50 percent in the inferno. Fire fighters kept struggling for hours to control the flames, which became the herculean task as shops in the vicinity are closely cluttered. The traffic on Residency Road also choked up owing to the rescue operations by the fire fighters.
Around 3 fire brigades reached the spot and boys swung into action immediately after. The fire broke out at around 2 pm.
However no other connecting shop was affected by the blaze. The flames were so intense that nearly all the goods stored in Mehdi Art Shop turned into ashes. No casualty of life has been reported in the fire.
The reason behind the fire was yet to be ascertained but sources point towards short circuit in the wiring.
The traffic police came out with effective efforts in containing the traffic chaos to the great extent. The workers were able to extinguish the blaze in the evening. The total loss is yet to be estimated.