Sakkardara lake, too, is on its way to die at the same hands of irresponsible authorities, and the citizens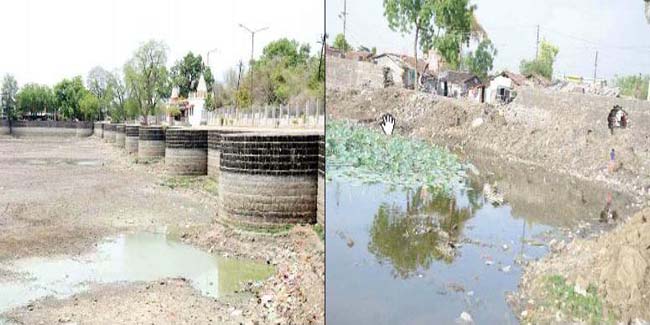 Nagpur News: The blazing summer this year has been fiercely determined to show no mercy whoever comes it its monstrous range. Leave alone human beings, who even otherwise are suffering an untold anguish, the water reservoirs, supposed to stand trial of Sun God, are themselves taking a severe beating.
The major lakes like Ambajhari, Gorewada, Futala, Sakkardara, and Gandhi Sagar have meekly surrendered to the blistering heat, and have lowered their water levels to alarmingly low. However, the Sonegaon tank has been abysmally starved of water as not a single drop could be found in the lake.
The criminal negligence on the part of local authorities, and citizens, too, to look after so many water sources in city itself created the present critical situation on water supply. Sonegaon lake was dug up deeper and deeper by NMC authorities in order to enthuse a fresh life into the lake. And their efforts, too, bore fruits and the lake was to some extent full of water. However, the residents nearby the lake started dumping garbage and other waste material into the lake. Habits die hard. During festival days like Lord Ganesh and Goddess Durga festivities the people raced to the lake to fill it with idols of Lord Ganesh, made of Plaster of Paris (PoP), apart from garlands, flowers and other related things. The outcome was certain. The lake was suffocated to the hilt and died of oxygen and no water. It would be insanity if only officials are blamed. The main murderers of the Sonegaon lake are the irresponsible citizens and therefore the most sufferers.
The Sakkardara lake has been facing a different problem. The lake has been occupied by various wild flora and fauna courtesy the NMC Administration. The lake doesn't lok like a lake but a wild jungle spot. The Bhosale-era lake is also posing a life threatening hazard as the wall on the east side has cracked, and awaiting to make the residents the victims any time. Here also, habits die hard. The residents nearby the lake have made the lake a garbage dump. The first victims of this phenomeno were the fishes in the lake who died young. If the authorities don't act tough the lake, too, would die a painful death
The Gorewada lake which provides water to Nagpur City is also crying for sufficient water and is hoping for early break of Monsoon. The same tell tale situation of Kanhan River, another source of water supply to Nagpur and surrounding areas. If the Rain God, too, takes its own time to hit the city, then the situation would be beyond imagination. Not to mention the torture of Orange City citizens. In this precarious front, the concerned authorities would be forced to fetch water from Pench and Khindsi in more quantity than the present condition.