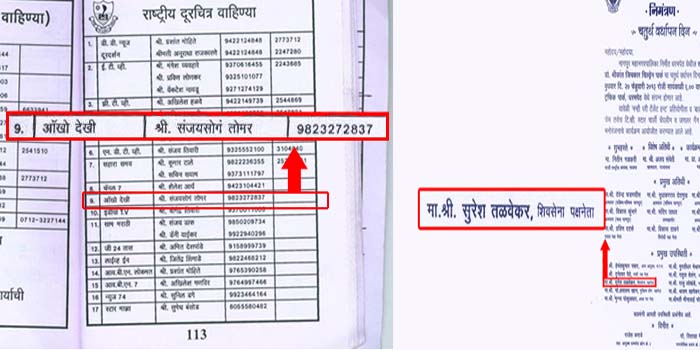 Nagpur News: The information blunder that showed a dead journalist still living along with series of errors in Nagpur Municipal Corporation's information booklet for 2012-13 is still being ignored by senior NMC officials. In addition to it, the invitation regarding the foundation day function of Children's Traffic park also include Suresh Talwekar's name referring him as ruling Shiv Sena leader whereas he is no more serving the post.
Nagpur Today has been following up the matter with regular update in this regard. However ground report is that not a single authority seems to be bothered about the information being printed in such an important diary termed vital for citizens' information purpose.
Last week only, Nagpur Today reported on how carelessly the information has been misquoted in NMC's information booklet. The news reporter Sanjeev Singh Tomar who died two years ago in a road accident is still shown as working reporter. This apart, the name another ex-journalist Shailesh Arya who quitted the profession long before still finds mention in this information book.
The NMC's Corporation Secretary Harish Dube has been beating about the bush without any action into the matter. Till date he is awaiting the reply of his show cause notice issued to incharge PRO Kolhatkar who seems to be least bothered about the blunder.
When Nagpur-Today asked for update, Harish Dube simply replied, "What should I do if Kolhatkar has not filed reply till date. Everything would be done as per service rules."
NMC Commissioner Shyam Wardhane talked to Nagpur Today but every time he excused himself citing his busy schedule. He said, "I have been busy with Advantage Vidarbha. Now I will look into the matter."
Additional Commissioner Hemant Pawar could not be contacted as his cell phone remained switched off for the last two days.
Will rope in professional PRO : Pravin Datke
Ruling party leader Pravin Datke apologized for the inconvenience caused to the citizens on account of the improper information in NMC's booklet. He said that we are looking forward to rope in professional PRO because this act of carelessly publishing information draws utmost shame. "I will talk to the NMC commissioner in this regard". As far showing Talwekar as ruling Shiv Sena leader in NMC's invitation, he said that since we did not receive any official letter from the party we have considered him as ruling Shiv Sena leader for time being.
Will certainly take action : Dayashankar Tiwari
Standing Committee Chairman Dayashankar Tiwari said that show cause notice has been issued to the concerned person and even if he has not replied, we would issue a second notice to him as there is a provision for anyone to put up his stand. He said that we give ample time to the person whom show cause is served. "If we don't do this then the person will file litigation and will be let off. I assure that strong action will be taken in this regard," he added.
Will take care in future : Sandeep Jadhav
Deputy Mayor Sandeep Jadhav accepted that such misleading information in an important official booklet should be avoided. Before going for print, the booklet should be passed through the eyes of concerned officials so that it may go error free. "We are certainly at fault. We will take care to avoid such mistakes in future," he quipped.
Administration has lost control : Vikas Thakre
Opposition Leader Vikas Thakre lambasted NMC administration for its lackadaisical functioning. He said these are the mistakes that have come to light but there are so many malpractices going unchecked. This shows that NMC has lost control on administration. "I will certainly talk to the officials in this regard", he added.
Irony on NMC's part : Sandeep Joshi
Former standing committee chairman Sandeep Joshi said that it is ironical that such mistakes are being committed. This is a clear example of sheer carelessness. I will talk to the concerned person on my own.
Let me see : Avinash Thakre :
Next standing committee chairman Avinash Thakre said that he would have to check because there are two booklets – one is official while other one is not published by NMC. "So I have to look in which book the mistake is," he said.