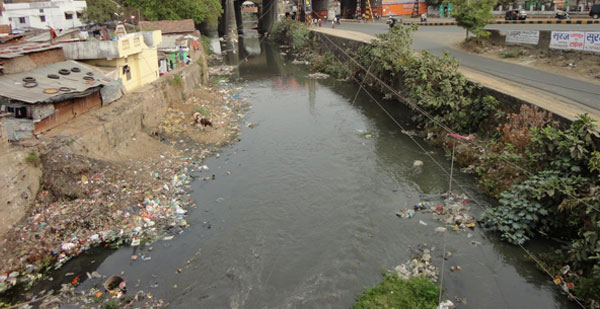 Nagpur News:
Notwithstanding the "Mission Nag Nadi Cleaning" launched by Nagpur Municipal Corporation to get rid utter pollution the Nag Nadi is presently passing through with massive support of citizens, top Government officials, social workers and other institutes, some shameless and a stigma to society have been found dumping their garbage and filth into the Nag Nadi. However, this action of these citizens proved costly for them as the NMC's Health Department, for the first time on record, issued notices to them and also warned them remove their encroached establishments within two days.
The NMC has issued notices to 14 persons, who have established their shops along the Nag Nadi for throwing garbage and other dirty material. They have also been directed to remove their shops within 48 hours or face the dire consequences.
The NMC has launched a drive to take action after a newspaper carried a report on poor condition of Nag Nadi and the habits of some shameless people to dump the garbage into the river. Even though the "Mission Nag Nadi Cleaning" is in full swing the encroachments along the Nag Nadi are as it is. The NMC Commissioner Shyam Wardhane, taking serious note of encroachments along Nag Nadi shore, has directed the Enforcement Department of NMC to carry out anti-encroachments forcefully and without mercy.
The NMC's Health Department while implementing the Commissioner's order, initiated actions against seven persons in Gavlipura (Raring cattle), Binaki, Homoeopathy Hospital near KDK College and in Pardi and seven persons including persons running abattoirs  at Jagnade Square, were issued notices asking the remove their encroached establishments within 48 hours. NMC has warned that police help would be sought if persons issued notices did not remove encroachments in the above-mentioned areas on their own. NMC will undertake an intense drive to smash encroachments along Nag Nadi next week, according to a Health Department official.