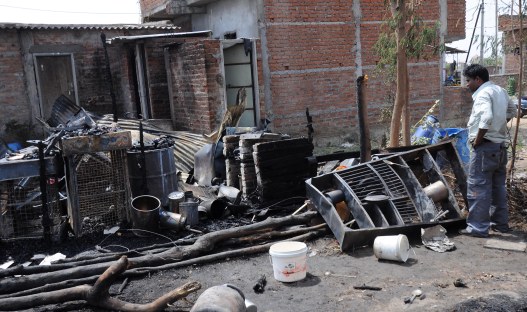 Nagpur News:
Two houses built with woods and tins were completely destroyed when a fire broke out in one of the houses.
The incident occurred in Sarode Nagar under Nandanwan Police Station.  The fire broke out first in one Kishore Tulsiram Parkhede's house at Plot No. 339. At the time of fire the house was vacant as Parkhede had gone out for reasons. The fire not only completely destroyed the Parkhede's house but rapidly spread to adjacent house at Plot No. 338 belonging to one Virendra Pralhad Basakhade who, coincidently too was not at home as he and other family members were out for reasons known to them only. The fire did not show mercy to Basakhade's house either. His house, too, was completely destroyed by the fire.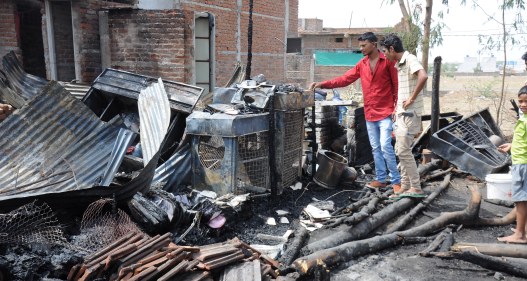 The Fire Brigade dispatched two fire tenders to the spot after being informed by some people and brought the fire under control but it was too late as both the houses were reduced to ashes. However, a major disaster was averted as the LPG cylinders at both houses failed to explode due to spraying of water by fire tenders. Had the LPG cylinders exploded during the fire at its peak the explosions could have turned the fire incident into a major tragedy.
According to Fire Brigade sources, Parkhede suffered a loss of Rs 50,000 and Basakhade the Rs 40,000 due to the fire. However, the reason for break out of fire could not be pointed out immediately. The Fire Brigade personnel said a detailed investigation would be carried out to find the source of fire.