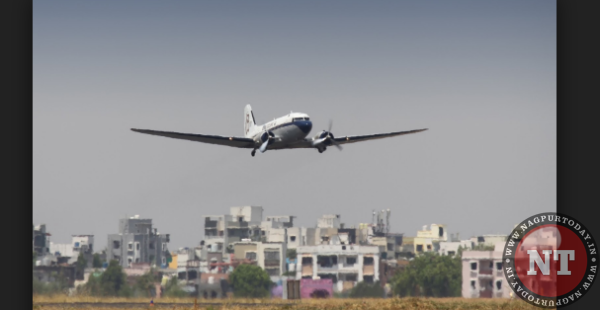 Nagpur: Nagpur Municipal Corporation (NMC) officials appear to have been in a jinx over removing illegal building and mobile towers around Nagpur airport. The callous attitude of civic officials have eventually led Mihan India Limited (MIL), the authority responsible for developing city airport as major international hub for airlines, to mull over cutting down the lenght of the runway.
It may be mentioned that this move will not only hamper bulk flight operations from Nagpur airport, but it will also shatter the dreams of Chief minister Devendra Fadnavis and union transport minister Nitin Gadkari to make Nagpur a big international airport.
Vijay Mulekar, senior airport director, said in a press conference that few buildings at Jaitala and Chinchbhuvan were coming in the way of flights landing and take off. "These high rises were constructed in violation of our permits. We wrote a letter to the then municipal commissioner Ashwin Mudgal to raze the extra construction, but he turned down our request, saying that it was not NMC's job. We also held two meetings with him, but to no avail," added Mulekar.
The director had then written to Director General of Civil Aviation (DGCA) to raze the constructions, but is yet to get a response. "I will also write to the ministry of civil aviation but if I do not get any response, I will have no option but to reduce the length of the runway by 560 metre from its present length of 3,200m," he told the media.
The official pointed out that Nagpur airport had two runways — 1-4 and 3-2. "We will have to stop using the 3-2 runway completely for big aircraft like Boeing 737 and Airbus 320. Only 1-4 runway will be used, but this means that the airport will not be able to handle more flights in the future," he added.
Currently, the problem from Chinchbhuvan side was not much, but some constructions on Jaitala side are in the flight path. Pilots landing from Jaitala side have frequently complained that their ground proximity warning (GPW) system sounds an alarm near these constructions. MIL is keeping a record of these complaints. "The airport survey to be done later this year will once again confirm the problem," said Mulekar.
NMC has refused to take responsibility because the Demolition Rules, 1994, of DGCA are not clear as to which agency has to raze illegal constructions. "The practical reality is that local bodies must do it, because they have the demolition machinery," Mulekar said.
The director further said that local bodies should stop giving sanction to buildings on both sides of the new runway, else it would also run into trouble.
Former municipal commissioner Mudgal defended his conduct. "All these buildings were constructed with MIL's permission. If they exceed the permissible height then MIL should demolish them as per the Demolition Act," he said.