Nagpur News: The Nagpur Municipal Corporation on Monday felicitated and accorded a fond farewell to a man of matter. The Divisional Railway Manager (DRM) of Nagpur Division of Central Railway Brujesh Dixit has been transferred to the Headquarters of Western Railway, Mumbai as Chief Track Engineer. The Mayor Anil Sole, in a small function in his chamber, felicitated the DRM Dixit by offering him Shawl, Shriphal and a Memento. The NMC Commissioner welcomed him in the civic body's Headquarters in Civil Lines.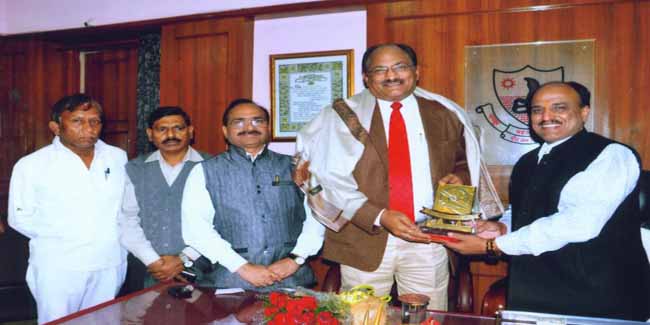 The Mayor Anil Sole, in his welcome speech, proudly recalled the three-year tenure of the top railway official by mentioning outstanding facilities he provided to the Orange City passengers. "The DRM Brujesh Dixit gave a new facelift to Nagpur Railway Station with dozens of passenger-oriented facilities that made the Station a model one and drew accolades, not only from Nagpur but the passengers from across the country. Now, Nagpur Railway Station is known as the cleanest one, and for independent water supply connection and billing, installation of Bullet Engine, high-quality facilities and services. The Nagpur Division of Central Railway bagged the Central Government's Award for Power Saving venture. And this was made possible by the DRM of Central Railway Brujesh Dixit," the Mayor asserted.
The DRM, while commenting on his felicitation said, "I am very lucky and grateful, too, for getting the opportunity to serve Nagpur, the heart of the nation. I could do the remarkable works with the cooperation of all my hardworking associates and employees. If there is will power, any challenging task could be accomplished and the facelift of Nagpur Railway Station in stages was an apt testimony of that will power. The power saving venture could be achieved only because of cooperation of Railway Union, officials and employees," the DRM Brujesh Dixit state with pride in his face.
The NMC Commissioner Shyam Wardhane felicitated the General Secretary of Railway Union Vinod Chaturvedi by offering him a bouquet on the occasion. Others who graced the occasion include MLA and City BJP President Krishna Khopde, Additional NMC Commissioner Hemant Pawar, Additional Deputy Commissioner Ravindra Bhusari, Executive Engineer (Electric) S B Jaiswal, Garden Superintendent N B Shrikhande, Assistant Commissioner Salim, and others.