Nagpur Today: The Muslims brethren in India and our city observe Milad un-Nabi, also known as Eid-e-Milad which commemorates the Prophet Muhammad's birthday.
Milad un-Nabi is also known as Nabi Day, Mawlid, Mohammad's Birthday or the Prophet's Birthday. The Muslim brethren who observe Milad-un-Nabi gatherings remember, discuss and celebrate the advent of the Prophet Muhammad's birth and his teachings. Sunni Muslims celebrate this event on the 12th of the Islamic month of Rabi' al-awwal, while the Shi'a community celebrates it on the 17th of Rabi' al-awwal.
The activities undertaken on this auspicious day by our Muslim brethren include Night-long prayer meetings, Marches and parades involving large crowds, Sandal rites over the symbolic footprints of the Prophet Muhammad, Festive banners and bunting on and in homes, mosques and other buildings, Communal meals in mosques and other community buildings, Meetings to listen to stories and poems (nats) about Mohammad's life, deeds and teachings, Exhibitions featuring pictures of Holy mosques in the holy cities of Mecca and Medina in Saudi Arabia.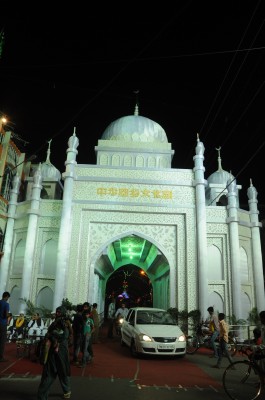 The City Mosques and religious building are all decorated and lit up with colourful lightings to mark the Eid-e-Milad
Many people carry green flags or banners or wear green ribbons or items of clothing when taking part in these events. The color green represents Islam and paradise. Many people see the Prophet's birthday as an event worthy of praise. Others view the celebration of birthdays as contradictory to Islamic law.  Both sides cite the Hadith and events from the Prophet's life to support their views.