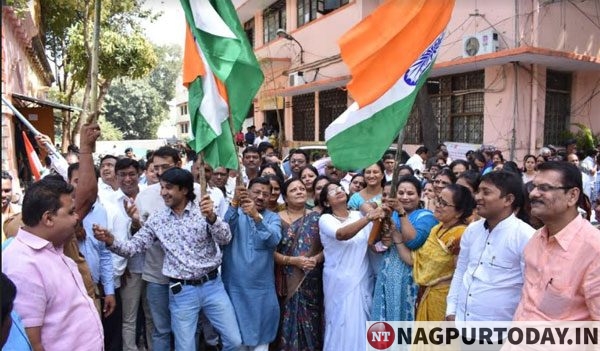 Nagpur: Ever since the news of Indian Air Force bombing and destroying terror camps in Pakistan as a retaliation to Pulwama attack on Tuesday, celebrations erupted across the Second Capital City of Nagpur. In the General Body Meeting of Nagpur Municipal Corporation held on Tuesday, a congratulatory resolution was passed hailing the surgical strike-2.
On the directive Mayor Nanda Jichkar, the resolution was read out by the Municipal Secretary Harish Dubey. Soon celebrations erupted with pitched shouts saluting the Indian Air Force. Amid the celebrations the proceedings of the House were adjourned at 1 pm indefinitely. During the proceedings, discussion on only five issues could be held.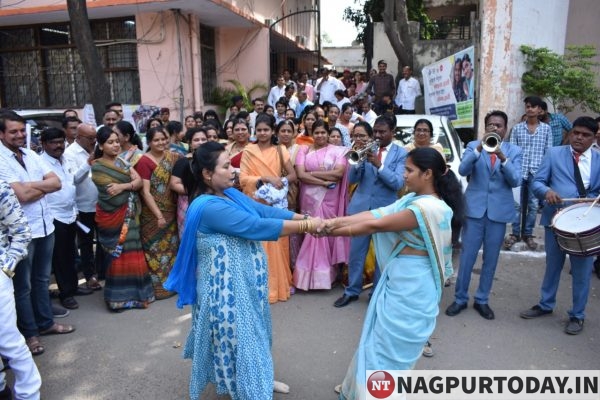 Later, led by Mayor Jichkar, the ruling party Corporators celebrated the surgical strike-2 amid the beating of dhol tasha in front of Town Hall in Mahal. Enjoying the moments were some Opposition Corporators and officials. Those present include Deputy Mayor Deepraj Pardikar, Ruling Party Leader Sandeep Joshi, Chairman of Standing Committee Virendra Kukreja, former Mayor Pravin Datke, Law Committee Chairman Adv Dharmapal Meshram, Water Supply Committee Pintu Jhalke, former Education Committee Chairperson Chetana Tank, Pravin Bhisikar and others.
Rs 2000 each to Pulwama martyrs:
The Senior Congress Corporator Harish Gwalvanshi recommended Rs 1000 each as assistance from all Corporators to the families of CRPF jawans , martyred in Pulwama attack. All the Corporators supported the idea of Gwalvanshi. The Ruling Party Leader Sandeep Joshi recommended Rs 2000 instead of Rs 1,000. Thir recommendation was also approved.