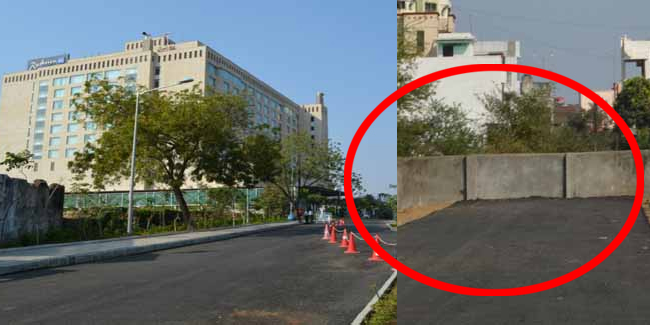 Nagpur News: The approach road to a series of residential areas in Nagpur has been blocked by Hotel Radisson Blu and the authorities are proving to be ineffective in getting the concerned road free for public commutation. Residents from Azad Hind Nagar, Nag Bhumi layout, Khode layout, mouza Somalwada of Bhagyodaya layout have been running from pillar to post in this regard but NMC officials have turned a deaf ear to their woes. The influential reach of the hotel group is believed to be the reason behind the inaction of the authorities.
The concerned layouts fall under the jurisdiction of Nagpur Improvement Trust. As such the residents had deposited the development charges to NIT which has now passed the buck to NMC.
On February 16, Rajkumar Hatwar led the delegation of citizens to the ward officer, Dhantoli zone, Morone. The citizens even went to meet NMC Commissioner Shyam Wardhane in this regard but had to leave with memorandum addressed to him.
When the situation remained unchanged, the citizens on Wednesday again reached NMC office and inquired Wardhane about their demand. Wardhane told them that he had forwarded their memorandum to NMC's additional commissioner Pawar. It is learnt that Pawar has not moved the probe an inch so far. Instead he has shed his responsibility over to the Laxmi Nagar zone assistant commissioner Ganesh Rathore.  Even Rathore is learnt to have slipped the memorandum to a junior PWD employee.
When Nagpur Today contacted Rathore, he said that earlier the area was in Dhantoli zone and recently it has been taken into Laxmi Nagar zone. About the layout he said that Nagbhumi layout is in NIT's jurisdiction. He said that all the approaches have been opened. But when asked about the approach road blocked by Hotel Radisson, he said he would have to look into the matter.
As of now, there seems to be no end to the irony of the citizens.
Even NMC Commissioner seemed unwilling to speak anything in this regard as he cited his business everytime Nagpur Today called him to get his version.
Distt administration not competent : Hotel Radisson Authority
The authorities from Hotel Radisson Blu have been adamantly claiming their right to use the concerned road as private parking. When contacted, an authority informed that the district administration is not the competent authority to get their parking area cleared.