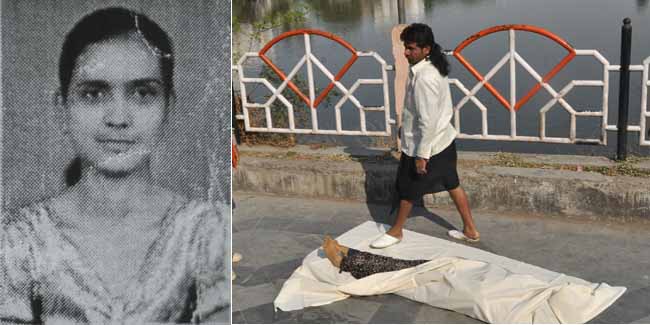 Nagpur News : Twice a 16-year-old girl was offered help to prevent her suicide attempt. However, a firm teenager managed to give a slip to the saviours and jumped to death into Gandhi Sagar Lake on Thursday morning.
Chakuli Bhagat, a science student, had left her Bhandewadi residence early morning around 6. Her parents informed that she had failed to clear twelfth class examinations from past two years and thus was depressed.
"She was struggling hard to clear her subjects but each time, she would get disappointment. She was dejected by the feeling that her batch mates are moving forward and she is still lacking behind," said her father Ramdas, who works with an eatery. Besides father, the victim leaves behind mother and four siblings.
Bhagat was seen roaming around Lake since morning. She was first interrupted by Jagdish Khare, the saviour who had saved many lives and fished out many bodies at the Lake. Khare told that he saw the girl sitting depressed at the corner and asked if she had any problem.
"I tried to ask her but she walked away. I thought she might have come to spend some time alone and thus left her," said Khare. He informed that after few minutes, he came to know that the girl had jumped into the lake.
Few minutes after Bhagat jumped into lake, an eye-witness Dilip Kakpure lend a helping hand to pull her out of the lake but firm Bhagat avoided the help and choose to death. Kakpure told Nagpur Today that the moment he saw the girl jumped into lake, he immediately lend a wooden stick to her so that she could get hold of till she was taken out.
"She didn't hold the stick and was drowned. Before anyone could rush, she got disappeared," said Kakpure.
Khare said that it took around two hours to trace out the body. He claimed that despite being informed about the student's suicide, neither the cops nor the fire department officials were ready to even search the body.
He alleged that from past six months, NMC has not paid him any benefits to fish out the bodies. Instead, NMC officials sent him back claiming that it's cop's duty and refused to pay him.
There was a minor argument between cops, fire department officials over fishing out Bhagat's body. Police said hat her bag was found near the wall that had her identity card and a SIM card. No suicide note was found. I-card helped cops to inform her parents.