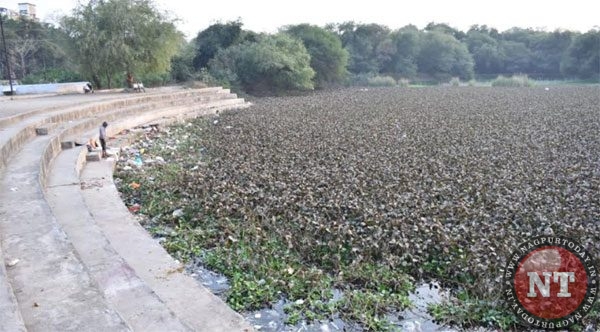 Nagpur: Despite the fact that public awareness is being created for cleanliness in the city through Swachh Sarvekshan, Nagpur Municipal Corporation (NMC) has been found working poorly. The claims of the civic body that it is making concerted efforts to make the city smart and beautiful have been proved empty time and again. These claims are belied by the dirtiness visible in many parts of the city, specially the Police Lines Takli Lake, also called Police Talao. The walls of the lake bear the message of cleanliness but the lake is polluted. Forget beautification, the lake is not even cleaned.
The Police Talao is located on the left side of the road going from Old Katol Road to Avasthi Nagar Square. The lake has not been cleaned since long time and has become extremely dirty with garbage. With summer around the corner, the lake should have been in good shape.
No sitting arrangements have been made around the Police Talao and neither is there any safety railing around the lake which could cause mishaps. Even the local residents do not visit the lake as it has become a den for anti-social activities.
NMC is neglecting the beautification of Police Talao which is causing garbage to pile up, obnoxious smell and swarms of mosquitoes. 'Nirmalya' is dropped in the lake and the water has become polluted.
The residents in the area, especially those from Police Colony are put to hardships by the bad state of the lake. Local residents said that, the pollution in the lake was breeding mosquitoes and their health was at stake. They expected the lake to be cleaned up as early as possible.