Staff trained to deal with any situation during Majhi Metro run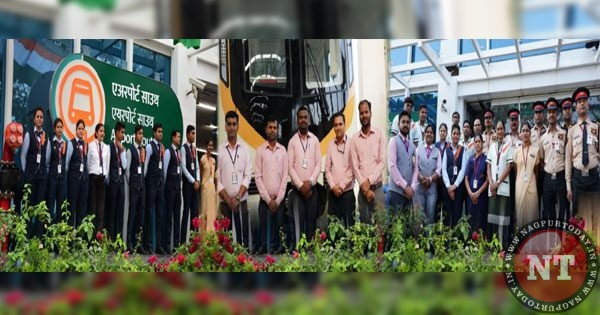 Nagpur: Achieving another milestone with the trial run of Majhi Metro, Maha Metro has put itself in top gear to operationalise Nagpur Metro in coming days. On one hand the work of Nagpur Metro has been going on war footing, on the other hand the staff recruited for operating the Metro has been given rigorous training and deployed at various stations. To gauge the alertness of the staff to their responsibilities, emergency mock drills are being conducted even at the dead of nights. In the mock drills conducted so far, the deployed staff had fulfilled the laid down standards with aplomb.
The staff – essential for operating the Metro — including Section Engineers/Junior Engineers, Station Controller/Train Operator, Technicians and FMS staff have been provided necessary training to deal with matters regarding passenger facilities, emergency situations etc. The pre-launch 45-day training was provided to Operations and Maintenance Staff in DMRC (Delhi Metro Rail Corporation) for operation of Nagpur Metro.
The number of staff that was provided 45 day basic training include 50 Station Controllers/Train Operators,34 Section Engineers/Junior Engineers, 31 Technicians, 7 day training in Fire Fighting, Safety and First Aid, 7 day training in Soft Skill, Communication Skill, Personality Development etc. Apart from this training, 30 day training is also being provided by OEM/Contractor/Supplier.
Similarly, 45-day basic training was also provided to 130 FMS staff (including Tom Operators, CFA, House Keeping and Security), Fire Fighting, Safety and First Aid Training, Soft Skill, Communication Skill, Personality Development training etc.
Every official and personnel deployed at stations has been well trained in fire fighting. Every aspect of Metro operation, passenger facilities, safety, security is being monitored closely under the guidance of Maha Metro Managing Director Dr Brujesh Dixit, Director (Finance) S Shivnathan, Director (Rolling Stock and System) Sunil Mathur, General Manager (Administration) Anil Kokate, CPM (O&M) Sudhakar Urade, Manager (Training and FMS) Mahendra Swamy.
The deployed staff undergoes meditation after every 48 hours so that they are stress free and concentrate on their job effectively.
On Monday, Maha Metro started Majhi Metro's trial run from Khapri Station to Ajni Railway Station in Congress Nagar. The metro train ran on a stretch of 11.50 kms. Enthused by the successful trial run, Nagpur Maha Metro is likely to launch its operation in first week of March.