Nitin Gadkari gets a thank you note from Sonia Gandhi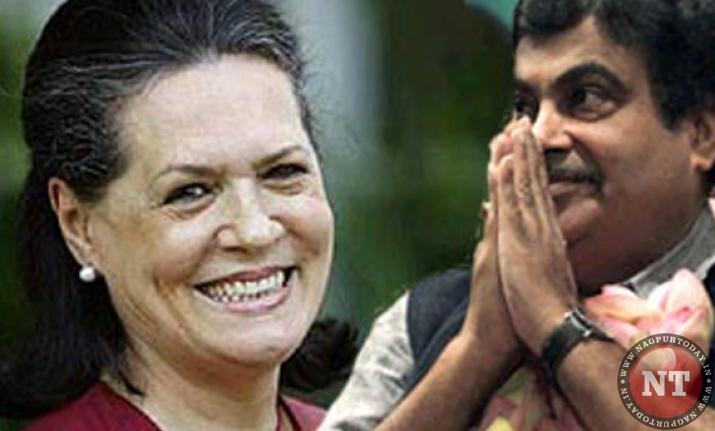 New Delhi: With change of governments, fortunes of various parliamentary constituencies also tend to change. This, Congress leaders believe, is certainly the case with the two most high-profile constituencies for the party –– Amethi and Raebareli.
Projects in the two constituencies, represented by Congress president Rahul Gandhi and UPA chairperson Sonia Gandhi, respectively, have allegedly hit a slow lane ever since the Modi government came to power with some stalled, others shifted out and a few 'appropriated' by the ruling dispensation.
There has, however, been one exception that has now been duly acknowledged by Sonia Gandhi herself. The Raebareli MP, who has been shooting off letters to various ministers to get things moving in her constituency, sent her first thank you note to a Union minister under the Modi government, for responding positively to her request.
On August 10, Sonia Gandhi wrote to Nitin Gadkari, Minister of Road Transport, Highways and Shipping, thanking him for his "positive response" to road issues she had raised relating to her constituency. Gandhi had written to Gadkari in March this year drawing his attention to the government's plans for four-laning of NH- 330A, off Faizabad district.
She had requested that about 47 km of the same national highway that fell in her constituency, off Ratapur, also be included in the widening plans to facilitate those travelling from there towards Ayodhya-Faizabad. The Congress leader had requested the minister to consider four-laning for NH-232, NH-232A and 330A, off Raebareli.
Five months later, Gadkari wrote back to her on July 20, 2018, stating he had got her request examined closely and got technical experts to assess the four-laning possibilities for Raebareli area. His letter details how almost all stretches requested by Sonia Gandhi for four-laning are eligible for the expansion, considering the traffic flow.
This communication elicited a thank you note from Gandhi who has also expressed hope that he will expedite fourlaning for the highways. This is, however, a rare instance, say those in her office tracking her constituency's works.
Gandhi's letters to health minister JP Nadda on AIIMS Raebareli apparently did not meet with as much success. Gandhi had recently written to UP CM Yogi Adityanath over floodaffected areas in her constituency.
Rahul Gandhi's constituency Amethi, on the other hand, has seen little progress, said those in his office tracking the projects. A NATRIP centre and a Hindustan Paper Mills unit proposed for Amethi were shifted out of Gandhi's constituency to Maharashtra and plans for a mega foodpark at Jagdishpur was shelved, as per his office. Of the 54 UPA-era KVs promised in 2014, only one could not come up –– that in Amethi. The latest round of letters between Rahul's Amethi office and the government is over a fee hike effected by an existing KV at BHEL Jagdishpur and the latter throwing up its hands pointing out that it was a 'project' KV at a PSU where fee is not under its control.