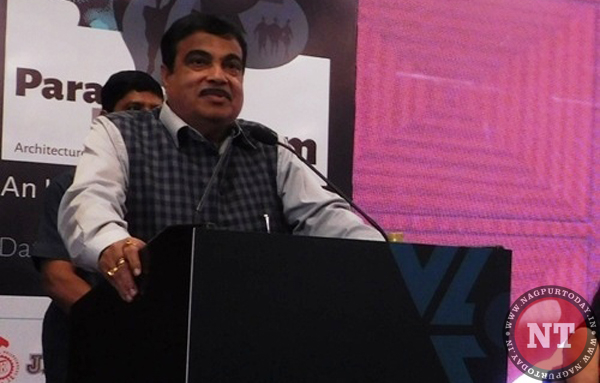 Nagpur: Road construction and housing projects require large quantities of costly materials such as sand, cement, steel, and so the cost of capital of the project increases due to rising international prices. In order to change this situation, the architects should make use of less expensive material like fly ash, garbage, plastic, to create a cost-effective structure, said Union Road Transport and Highways Minister Nitin Gadkari. He was speaking as the chief guest at the two day concluding function of the International Conference on 'Paradox to Paradgm' held at the local Hotel Radisson Blu, on behalf of Shrimati Manoramabai Mundle College of Architecture, run by Women's Education Society.
The cost of the project has been reduced due to use of slit from ponds, deepening of lakes, nullahs, grazing land, drains, in construction of roads from Buldana to Ajanta. Under scheme housing for all in urban and rural areas by 2022, Minister of State for Energy, Chandrashekhar Bawankule has decided to utilize the fly ash of the thermal power project for housing and to build 6000 houses at Koradi. The sand got from coalmines of Western coalfields is being used in housing projects in the Nagpur.

The construction of Delhi Meerut Fast Highway the waste material from Ghazibad's garbage dumping yard has also been used. The Central Road Transport and Highways Ministry has carried out works worth Rs 5 lakh crore in Maharashtra. Architectures have scope in road construction, Gadkari appealed to the students of architecture to find new technology and ideas and dedicate in reducing cost of the project, and to contribute it in construction of residential houses, roads and water conservation.

During this conference held on 9 and 10 March, the world-renowned architects guided the students through technical sessions. On the occasion of the concluding programme, Dr Manoramabai Mundle College of Architecture's Principal Dr Ujwala Chakraborty, college teachers, students were present in large numbers.