Nitin Gadkari advocates use of eco -friendly technologies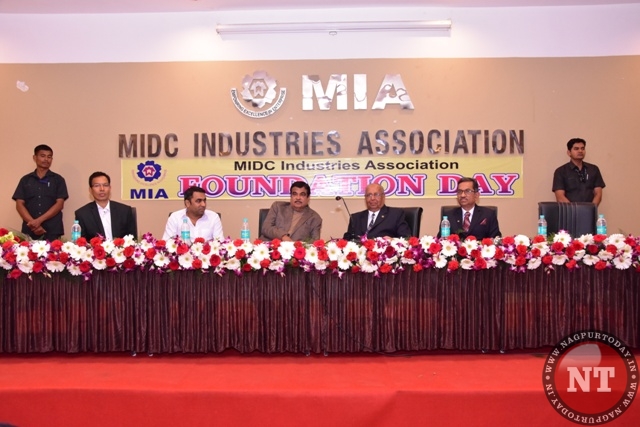 Nagpur: MIDC Industries Association (MIA) celebrated its 33rd Foundation Day on 4th Feb 2018, at MIA House, Hingna, Nagpur. Minister for Water Resources, River Rejuvenation, Road Transport, Highways and Shipping Nitin Gadkari was the chief guest and the guest of Honour was Sameer Meghe, MLA-Hingna. On the dias was also present the Regional Director of MSEDCL Bhalchandra Yashwant Khandait. The function was held under the guidance of the President of MIA Capt C M Randhir and presided over by the Secretary C G Shegaonkar. All dignitaries were felicitated by giving shawl, shrifal, bouquet and a memento.
Chandrashekhar Shegaonkar in his welcome speech briefed about the history of MIA, its facilities and achievements to the guests. The President welcomed Gadkari and briefed him about the various difficulties being faced by the industry and requested him to use his good offices to resolve various issues, such as creating Automobile hub in Nagpur, a world class convention centre at par with Pragati Maidan, an alternate drinking water source for MIDC, sewage line for the industrial area and skill development centre for the benefit of the Industry.
Nitin Gadkari in his address requested the local MLA Sameer Meghe to look it into the possibility of low cost Housing in Hingna for the benefit of working class Employees of MIDC. He also directed to Industrialists to look for mega projects for the generation of employment. He advocated the use of new and eco friendly technologies of alternate source of fuels such as Bio-Diesel, LNG, Ethanol, Electric Vehicles etc. He also motivated industrialists to dream big and ensured full support from his ministry and CM's office.
On Foundation Day, MIA recognises success of few out-standing industrialists by giving them "Entrepreneurial Excellence award". This year the awards were bestowed on Deepak Arora of Shree Udyog, Dr Ravindra Gandhi of Bombay Well print inks (P) Ltd and Sudarshan Shende of "Vithoba brand" oral products manufacturer.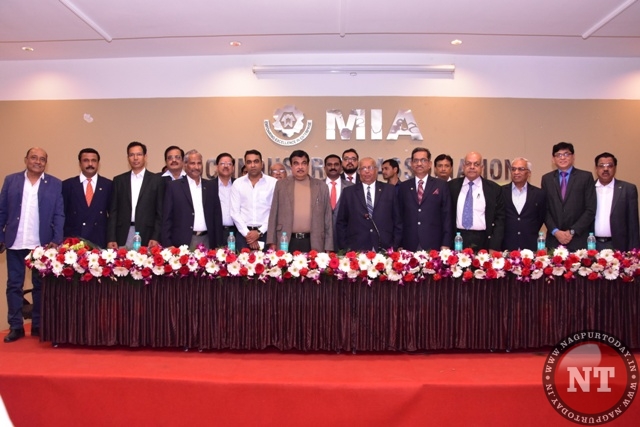 The Sr. PI of MIDC Sunil Mahadik was also felicitated for his achievement in getting the President's Medal.
The MOC of the programme was Shweta Shelgaonkar. The grand event concluded with vote of thanks by Addl. Secretary Sachin Jain. The event was attended by various government officers including Jt. Director of Industries, Ashok Dharmadhikari, GM (DIC) Gajendra O Bharti, Akulwar and Modave from MIDC. The guest list also included President of VIA Atul Pande, President of BMA Nitin Lonkar and President of DICCI Nischay Shelke and more than 100 members of Hingna Industrial Area.