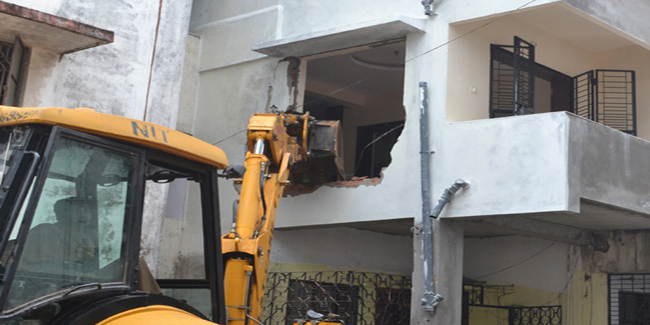 Nagpur News:The Nagpur Improvement Trust (NIT), hitherto in headlines for wrong reasons, has sent a terrorizing message across Nagpur by demolishing two unauthorized buildings in posh areas.
According to Vasant Kanhere, a senor official of NIT's Anti-Encroachment Department, the NIT Squad went on demolition mission and the first target was Radhakrishna Apartment's C-Wing. The flat scheme is located just behind noted Mahatme Eye Hospital in Mouja Somalwada, Khasra Number 5/7 (Radhakrishna Apartments). The flat owners Rajendra Dehankar and Sanjay Nair in the C-Wing's First and the Second Floor respectively constructed 10×20 illegal rooms in their flats. The NIT had served notices to both Dehankar and Nair on April 9  to demolish the unauthorized rooms themselves. However, both the flat owners took the NIT notices lightly and did not act as directed by the NIT. But when the NIT Squad started demolished the walls of their flats, the flat owners and others created an uproarious scene and strongly protested the NIT action. The NIT Squad stopped the demolition totally when the encroachers promised demolition by themselves by giving it in writing to NIT men. The Squad returned after giving the encroachers 24 hours to do the rest of demolish by themselves.
The second demolition operation was carried out at Azad Hind Co-operative Society based on Plot No 38 in Mouja Bhamti. The parking place shown in the original map was converted into an unauthorized and illegal rooms, bathroom and toilet. The NIT's Anti-Encroachment Squad razed the illegal construction of bathroom and toilet. The Squad served an ultimatum of two days to demolish the rooms by the dwellers themselves.
Although the NIT Squad did not demolish the unauthorized constructions completely by themselves, they have accomplished a sort of mission. The mission concerns to a terrorizing message across the Nagpur City: Be Legal or face the consequences.