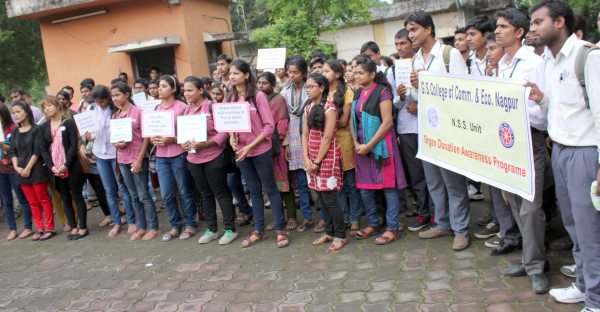 Nagpur News:
A rally and workshop to spread awareness about organ donation was taken out by Mohan Foundation (RMulti Organ Harvesting Aid Networking) in association with Matru Sewa Sangh Institute of Social Work on 6th August 2013 in Nagpur.
Around 250 NSS volunteers from  different colleges of Nagpur participated in the rally which started from the Matru Seva sangh college campus at Bajaj nagar and covered Laxmi nagar square, Shraddhanand Peth square, Abhyankar nagar square, Bajaj nagar square and returned backed to the college campus. Dr John Menachary, Principal, Matru seva sangh, lead the rally and renowned expert in the field of organ donation Sqn Ldr Dr Ravi Wankhede conducted the awareness workshop.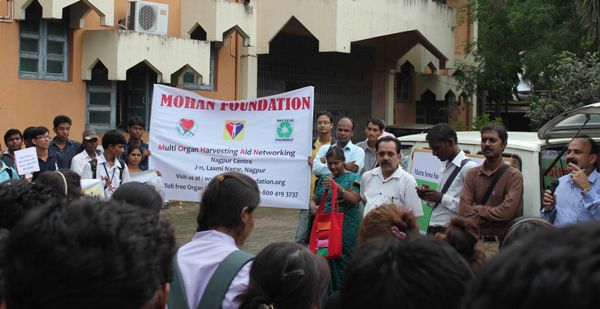 There is very little awareness about donating organs in the society. Many people lose their lives because of not getting transplants. The rally was organized with the objective creating awareness among the people to contribute in this noble cause. And also to provide information about where a person can donate and how it can change the lives of many and removing the misconceptions about the same was the motive of this initiative.
Dr Ravi Wankhede while speaking to NagpurToday said,  "the idea was spread awareness about Organ Donation  among the people, because people don't know about it. And inspire people to come forward for this noble deed."
The awareness had a good impact as 6 students Pledged to donate and registerted their names with (MOHAN foundation).The students namely Vishaka Meshram,Komal Patankar, Pallavi Uikey ,Vaibhav Jawale , Shilpa Telang and Narendra Uikey speaking to  NagpurToday said , " we are very happy to Pledge for this cause as it will help and can change the lives of people who are in desperate need."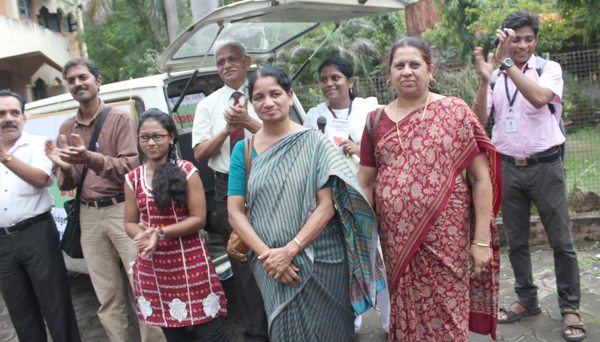 Two Lecturers of LAD college, Ms Venushree Karkare, Mrs Sindhu Ghate  Pledged to donate their Body. They told us that they wanted to donate and help but were not aware of the procedure and where to approach. During  the awareness programme today they came to know about it. Awareness regarding the donation among the masses should be conducted , they added.
Dr John Menachary informed that there are many misconceptions and to get the consent of the family of the donor is very important and tricky. Proper counseling is needed for the same. Matru seva sangh has conducted organ donation coordinators workshops and in future also more such work shops will be conducted in association with ( MOHAN Foundation) .He assured of whatever help and   infrastructure support for the awareness cause. Dr John also Pledged to donate.