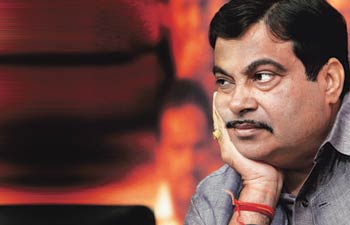 Nagpur News:
BJP President, Nitin Gadkari's Mumbai offices were part of an on field enquiry by the Income Tax Department (IT) on tuesday. His office was one of the nine locations selected by the department to conduct their enquiry into the dubious investments made by Gadkari in the Purti Group of Companies.
Sources in the I-T department said the exercise by its investigation wing was in continuation of the earlier searches carried out at the shell companies (entities which serve as a vehicle for business transactions without themselves having any significant assets or operations) related to Purti group in Mumbai.
Purti Sugar Mill, situated in Kharsapur (Bela) village about 60km from Nagpur, has also been visited and inspected by IT officials.
"We are verifying the addresses of the companies, the nature of the business and (whether) do they really exist," an I-T source said.
The Tax Department had earlier ordered Gadkari to appear in the latter half of this month, but the BJP president has stated preoccupation with his party work to delay his appearance before the department and has sought more time from them. However, the department has asked him to appear on February 1.
In response to the I-T department's questions regarding his transactions and investments in the Purti Group, Gadkari's authorized representatives presented the Tax Department with a 25 page document concerning his response to their questions. According to our sources, there were 2 representatives from Gadkari.
IT Department has asked Gadkari to be present in person so he can be confronted with documents and facts gathered during the probe by I-T authorities in the last few months.
The department has been probing various firms that invested in Gadkari's company Purti Power and Sugar Limited (PPSL).