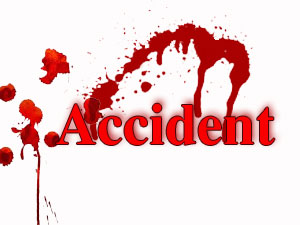 Nagpur News: Three people including a 23-year-old youth, who was married just a fortnight ago, lost their lives in separate mishaps on Sunday evening.
In Ajni police station area, two allegedly drunk youths- Pachpaoli resident Shrikant Bhoyar, 32, and Rohit Mishra, 23, a resident of Gandhi Nagar- knocked down the divider under the influence of alcohol at Kamble Square. The duo was heading from Medical Square to Kamble Square when Mishra, who was driving the bike, lost control and hit the median.
Mishra, who was married just two weeks before, was working at the cash counter at a food mart. Eyewitness told that Mishra was driving in criss-cross manner before it collided with the divider. Both were driving without helmet, sustained head injuries. Police told that Mishra banged on the divider. He was declared dead during treatment around 3 pm at Government Medical College and Hospital (GMCH). Bhoyar is recuperating at the same hospital.
Police has registered a case against Mishra for his negligent driving causing his death. Cops are yet to check the bike documents.
A pedestrian was knocked dead in a hit-and-run accident on old Bhandara road around 7 pm. Subhash Suryavanshi, a resident of old Mangalwari, was walking to Harihar temple on old Bhandara road when a speeding four-wheeler (MH-31, AP-8099) knocked him down. He was declared brought dead at Mayo Hospital. Lakadganj police has registered a case against the absconding driver.
Around 6.30 pm at Koradi, a youth died while his younger brother was seriously injured after a speeding truck knocked on Koradi road. Dinesh Dharmik, 28, was a resident of Chicholi in Khaperkheda.
Dharmik was riding pillion on the bike driven by Chandu. The duo was driving to Nagpur from Koradi when a rashly driven truck knocked down their bike and Dinesh was crushed under the rear wheels to death. Chandu is recuperating at Mayo hospital.