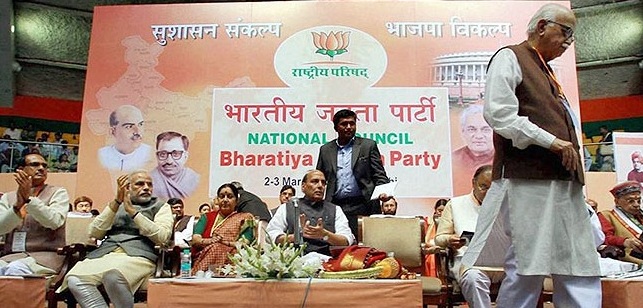 Nagpur News:
The severe bout of "NaMoniya" seems to have done extremely wrong to the political health of BJP top gun LK Advani as he quit all the party posts on Monday owing to the elevation of Gujarat Chief Minister Narendra Modi as the lead command of party's electoral bandwagon. So intense was the move of Advani that all attempts to revert his decision failed drastically.
His marching out brought its seismic effect in Nagpur too as leaders from various parties react willfully over the major turn of event within BJP.
Senior RSS leader MG Vaidya told Nagpur Today that Advani's sudden resignation from all party posts was shocking. First his non-appearance at the party's national executive on account of his ill health and then his unexpected move the very next day came quite unusual, he added. Mincing his words between the lines, he kept himself on non-commenting mode. However, he 'speculated' that Advani would not have liked Modi's promotion in the BJP for making the latter's ground strong for Prime Ministerial candidate in the upcoming Lok Sabha polls.
When asked if Sangh would intervene to calm the troubled waters in BJP, he ruled out any such possibility. Vaidya expressed that ambitions always governed politics but currently individual interests has been dominating BJP.
Nagpur MP from Congress Vilas Muttemwar said though Advani's decision was not his party's concern, still, whatever happened has certainly shocked the nation. He said, "I know Advani for the last three decades; as a politician, a parliamentarian and the key person responsible to carry the BJP to its current level. The latest move by BJP's senior most leader clearly indicates that elevating Narendra Modi's rank and file at the central level is not at all acceptable to the party's senior leader. The current turn of affairs has humiliated Advani and this might have prompted him for such a big decision."
BJP spokeperson Girish Vyas however viewed otherwise. He said though Advani's decision came as a big shock for all the dedicated party workers but he would continue to remain as the BJP's support system outside the party. Advani has nurtured the party's roots with his blood, he added. When pointed to the emerging rift between Modi and Advani as the reason behind the move, he rejected the theory saying that as of now Modi has been named as election campaign chief (prachar pramukh) owing to his popularity as the youth icon nationwide. "But nowhere he has been officially named as prime ministerial candidate," he said adding that Advani's decision is unfortunate but we are hopeful of having him back to the board.
He turned over the party's previous pages saying that in the past too Advani has tendered resignation and returned back to the party. This time too he would soon return to guide the party workers with his immense experience, Vyas said.