Nagpur.
"Vidarbha will soon have nine textile mills with latest technology, innovations and market driven productivity. Three are already near completion" declared Nitin Gadkari, Union Minister for Road Transport and Highways. He was speaking at the inaugural programme of the 12th International and 70th All India Textile Conference that began in Nagpur today at the Vasantrao Deshpande Auditorium in Civil lines, Nagpur.
The conference was held under the aegis of the The Textile Association of India – Vidarbha chapter. It had delegates from among textile companies, students, farmers and consultants who had come to Nagpur from all over the country for this event. It even had three Chinese delegates who were here from Beijing specially to attend the conclave, though they could not understand much of it since many speakers were speaking in Hindi.
Speaking to Nagpur Today, Arvind Sinha, the National President of the Textile Association said " I am very confident that there are bright days ahead both for cotton farmers and the textile industry." He said emphatically, requesting that he wanted to be quoted on this " if the world population is slated to go up by one billion in a few years, going up from 7 billion to 8 billion by 2020, why is everyone only concerned about whether there will be enough food for all then? We should also worry about whether there will be enough clothes made for them to wear and enough cotton grown to make those clothes? I am very confident of the fact that with all the polyester clothing we have, cotton fabric will never go out of vogue."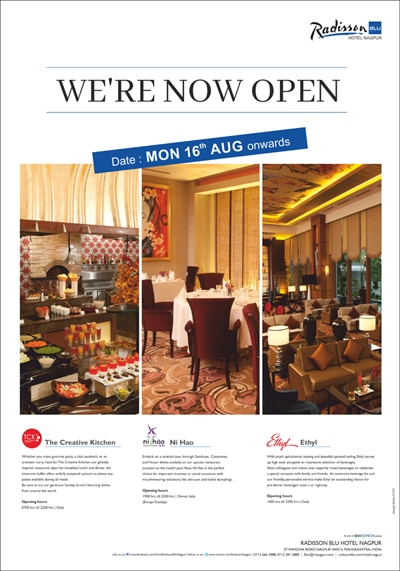 Gadkari lamented the fate of the lakhs of Vidarbha farmers and weavers (Kosthis) who had been driven to bankruptcy and out of sheer frustration have committed suicide because they suffered at the hands of successive Governments which did not frame the right policies for them. Nagpur had two thriving Cotton mills, Empress Mills and Model mills started by the Tatas. Both were first nationalized and then soon went defunct with thousands of workers losing their livelihood.
Similarly, he said the Janata Government of 1977 ( of which the BJP then called Jansangh was a big constituent) brought on the "Janata saree and Janata dhoti scheme" to give livelihood to Nagpur weavers and save their dying art. The result of getting this subsidy and assured market killed their creativity, their initiative and finally killed their business altogether when the scheme was stopped by the next government.
Governments cannot run business, he said. He quoted a Marathi couplet to say " when the Raja becomes a Vyapari, the praja becomes bhikari". (When the King becomes a merchant, the people become beggars). He said the present BJP Government under the leadership of Modi, would not make this mistake. They will strive to create the right atmosphere for industry to flourish; they will ensure that Agricultural universities and other academic institutes have effective extension schemes so that the results of Research and DEvelopment reach the farmers and they will ensure farmers get best of inputs. He even hinted at a complete revamp of Universities where Industrialists and not arm chair educationists would head them and form the curriculum for students. Subsidies cannot work for anyone for long, Mr. Gadkari opined – neither for farmers nor for weavers and artisans.
Speaking at the next session, Vijay Jawandia, senior farmer leader of Vidarbha disagreed on many of the points raised by Gadkari and also questioned the policies being framed by PM Modi for Indian farmers. He outlined the plight of the cotton farmers of the cotton growing districts of Vidarbha who spend much more on inputs and other expenses and do not get commensurate pricing. "It is not a question of Governments subsidizing farmers. The question is how long will farmers subsizide their country men by selling their produce below the cost of production?"
If you plan to bring in mega projects like big textile mills, even international players into the market and hope that progress will percolate down to the farmers and others at the bottom of the economic pyramid, that will not happen. "Planning has to be 'bottom – up. If the poorest of your constituents is looked after and survives and flourishes, the whole nation will flourish. It is not the other way round".
He parodied the five F ideology of Modi – Farm, Fibre, fabric, Fashion and Foreign. He said examples have already been seen that when prices of cotton in USA tumble, our farmers are also paid less for the cotton they grow, irrespective of their costs. Even if our cotton is of superior quality and produced at a lesser cost to the environment and affording more employment for our countrymen we have to compete with them in final pricing. This is an unrealistic model and will not sustain.
Speaking after him, Dr. P.B. Kale of the Mahatma Gandhi Institute for Rural Industrialization located in Wardha, also emphasized on the need for the Gandhian model of small village level industries that would progress with new technologies like solar power and give employment to artisans and farmers in our villages. He challenged big industries of the Textile Assn to encourage such ventures by purchasing yarn and other raw material from them instead of looking for big ancillary industries based in cities for their needs,
"It is a model that can succeed. We have to try it out if we want our farmers to survive. If industries do not lend them a hand, who will? The short form of Textile Assn of India is TAI, which means elder sister. Elder sister has to support her younger brothers otherwise come Raksha Bandhan they will have no wrists to tie rakhi on."
Advocate Shrihari Ane, gave a background of how the prosperity of Vidarbha cotton farmers and weavers vanished and they became 'sick' soon after Nagpur and Vidarbha joined Maharashtra. The two leaders of the area, Dr. Ambedkar and Bapuji Ane had warned that if a prosperous and cash surplus area is forced to join a not so prosperous larger state, it would also become impoverished, and that is exactly what happened.
Speaking at the fourth technical session, Dr. Kranti, Director of the Cotton Research Institute based in Nagpur said his scientists were ready with new technology and new seeds that could not just double but take cotton production four to five times its present yield.
We have to go back to basic cotton varieties instead of hybrids and BT cotton. "We have to grow seed cotton that farmers can re use to sow for the next season."
The conference will go on for tommorow also when the CM , Devendra Fadnavis is going to address the delegates.
It was a good gathering that raised many questions and aired many views.