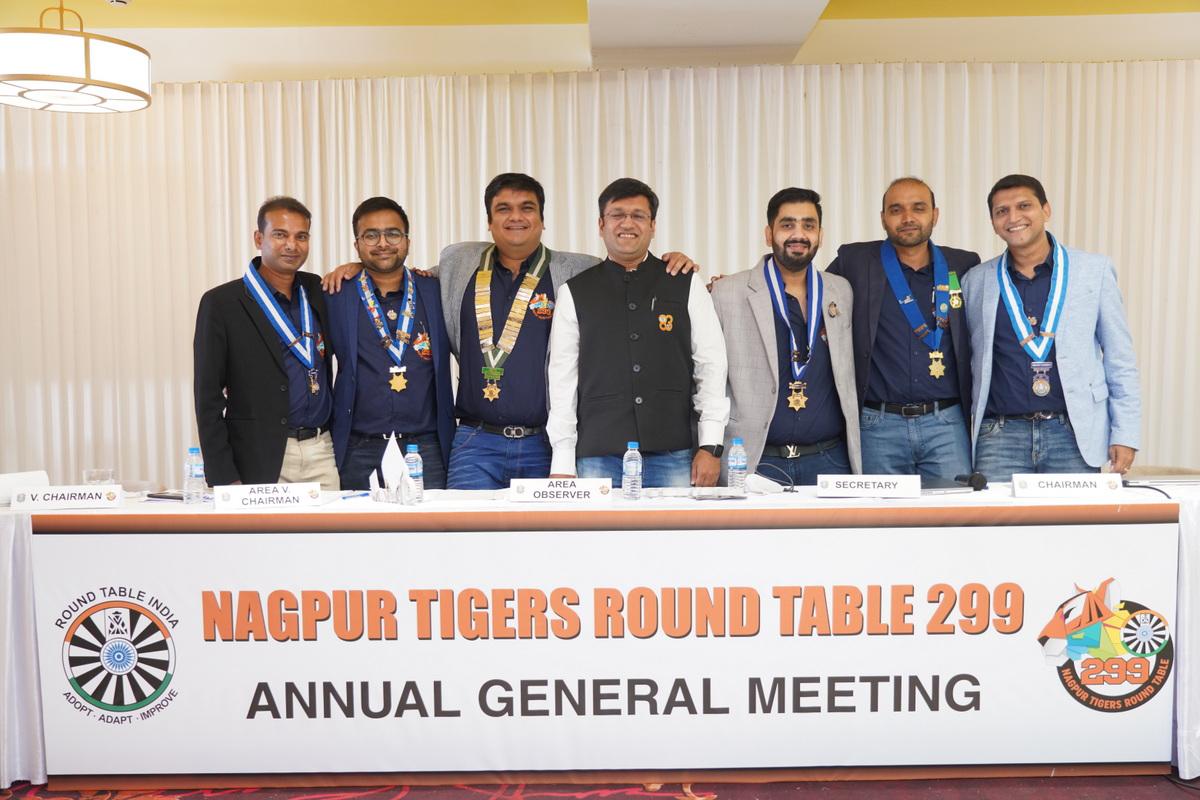 Nagpur Tigers Round Table 299 had a change of guard at their 5th AGM held at Nagpur. LMF Tr Shubham Jain took over the mantle as the Chairman for the year 2021-22 from LMf Tr Amit Poddar who was the chairman for the year 2019-2021. The other member in the head board include LMF tr Kishore Murarka as Vice Chairman, LMF tr Nishant Yaducka as Secretary , Tr Anuj Jejani as the treasurer and LMF tr Amit Poddar as the Immediate Past chairman.
LMF Tr Amit Poddar presented the annual report of the work done in the previous year. The highlight of the year was joint community service (all tables of Nagpur and ladies circle) donation of Bipap machine worth Rs 8.5 lacs, donated at GMC Nagpur.
Tr Piyush Goyal was inducted as new member of the table . Sq Leg Rohit Lakhotiya was selected as the Honorary Tabler for the year 2021-22.
The event was attended bt LMF Tr Vedant Agarwal , Chairman elect for the Area 3, Tr Gaurav Chowsey , LMF tR Pratik Manout , LMF Tr Prateek Manout , LMF tr Rahul Agarwala , Tr Sunny Thakkar , Tr Ankush Rewadia , Tr Gautam Himmatramka, Tr Rohit Buty , Tr Vishesh Agarwal, Tr Neeraj Khemka, Tr Shashank Agarwal , Tr Ankit K Agarwal, Tr Ishwadeep Singh Sethi, Cr. Farheen Rana, Cr. Isha Agarwal, Cr Nidhi Poddar , Cr Shweta Jejani and spouses of the tablers with their kids.
Round Table is an organization of young men aimed at promoting community service and goodwill in national and international affairs. Round table is present in Countries worldwide with over members. Round Table India has more than tables ( chapters) located in 95 plus cities and towns.
Round table india ia a zero Overhead Organization and therefore every rupee raised by the organization goes purely into charitable projects and this year as well Nagpur Tigers Round Table 299 will continue its work towards helping the society.