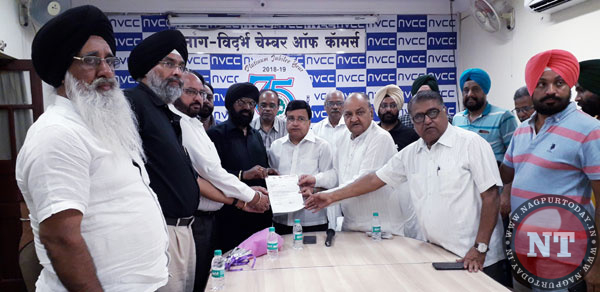 A delegation of ICAI, Nagpur Branch met Rajeev Jalota, Commissioner of State Tax, Government of Maharashtra recently. The delegation was led by CA Umang V Agrawal, Chairman of the Branch along with the Managing Committee members and senior members of the profession.
CA Agrawal said, "We are receiving several complaijnts faced by the assessee and their consulting professionals in uploading the GST returns every month. Some of them are server getting slow of the department, non allowability of revision/rectification of GSTR-3B, problems related to different cash ledger for each type of tax, Composition Scheme and also regarding the prolonged cancellations of GST certificates."
Further the ambiguity with respect to the Reverse Charge Mechanism and TDS under GST was discussed in detail by the Chairman with the Commissioner. He requested the Commissioner to allow the professionals to comment and provide suggestions on the new return that is expected to be rolled out soon so that post-implementation hardships can be reduced to a larger extent.
The delegation while meeting with the Commissioner pointed various recommendations that the State Government can give to the GST Council so as to minimise the complexities and also help the taxpayers in reducing the time consumed in matching the GST data and consequent filing of the returns. The members also highlighted that a simple, comprehensive and concise GST audit report form is required.
CA Preetam Batra and CA Ritesh Mehta pointed out the anomalies existing in the current GST law while suggesting the Department to adopt GSTIN wise matching rather than Bill-wise matching under the current system. They further highlighted that the State Government should request the GST Council to have a unified advance ruling authorities to avoid discrepancies in the order passed by various State authorities. It was further suggested to allow amend the GSTR-1 return anytime by the taxpayer so that necessary changes may be made for ensuring correct returns are filed by the assessees.
The delegation requested Commissioner to kindly take up the matter with concerned higher authorities and kindly consider request to issue clarification /amendment in law to for chargeability of GST for Works Contract pertaining to pre-GST period where payments are held up and Bill amount also not quantified by authorities.
Responding to the interaction Rajeev Jalota accepted the memorandum submitted by the Nagpur Branch and assured them to take up the issues with higher authorities. He further acknowledge the efforts of ICAI which is continuously providing practical solutions on various matters related to GST law.
He further suggested the delegation of Nagpur Branch to prepare FAQ's (Frequently Asked Questions) which can be sent across to all concerned officers on matters requiring clarification/guidance. He said, "Department is also taking active steps to create assessee friendly-atmosphere and suggestions are welcomed."
Prominently present on the occasion were CA Suren Duragkar, Vice Chairman, CA Saket Bagdia, Treasurer, CA Sanjay Agrawal, CA Jiten Saglani, CA Sandeep Jotwani, CA Swapnil Ghate, CA Chandan Patel and other members.