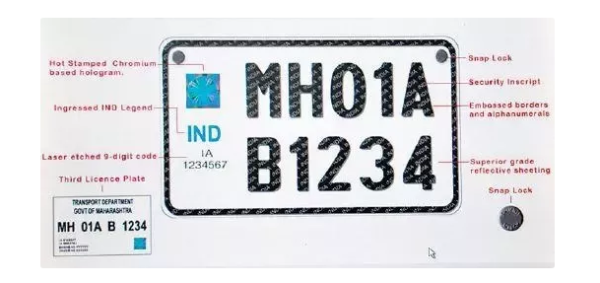 Vehicles in India will get HSRP or High-Security Registration Plates from the start of 2019. The new system is aimed to cut down registration tampering. The plates will also come with other security features.
HSRP system was made mandatory in India, almost a decade ago. However, many states are yet to implement it
The Ministry of Road Transport and Highways has notified that manufacturers can also affix the plates on new vehicles. The company can also put plates on existing models. The Ministry has also shared a draft intended to amend the Central Motor Vehicles Rules, 1989, with reference to section 10 of the Motor Vehicles Act,
"The security licence plate including third registration mark, wherever necessary, shall be supplied by vehicle manufacturers along with all the vehicles manufactured on or after 1st day of January 2019, and their dealers will place a mark of registration on such plates and affix them on the automobiles." – The draft shared by the Ministry said.
In addition to this, Union Minister of Road Transport and Highways, Nitin Gadkari, told that the cost of these new HSRP plates will be included in the vehicle price. Manufacturers will fix the plates while the number embossing will be done later.
HSRP comes in the form of a chromium-based hologram, applied by hot stamping on the top-left corner of the plates. Besides this, a laser-printed Permanent Identification Number, with minimum 10 digits, will be embedded into the reflective layer at the bottom-left.
At present, it is the Regional Transport Office (RTO) which does the registration duties. The new move aims to end the monopoly of the very HSRP manufacturers in the country, while also preventing registration tampering. Security features such as a self-destructive sticker with the engine and chassis number of the vehicle, comes in HSRP.