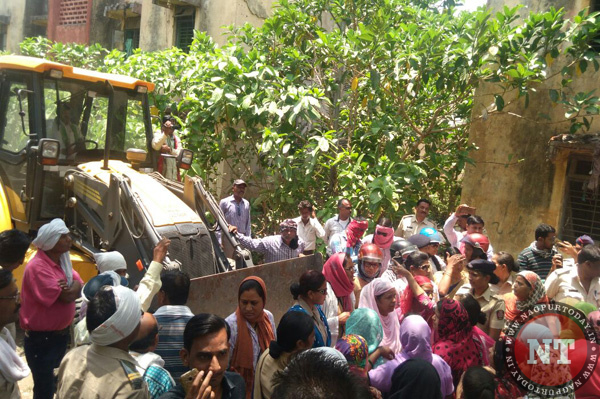 Nagpur: The Enforcement Department of Nagpur Municipal Corporation on Monday bulldozed illegal constructions including encroachment on the compound wall of Mayo Hospital and 3-storey buildings amid vociferous protests by the offenders. Presence of police force helped the NMC team to carry out anti-encroachment drive and prevent any untoward incident.
In all 13 illegal constructions were demolished. The Nagpur Bench of Bombay High Court, in the writ petition No. 3427/2000 filed by C H Sharma against Maharashtra State, had ordered demolition of encroachment on the compound wall of Mayo Hospital. The names of other encroachers are Mohd Ibrahim, Mehfaz Patel, Mohd Muzaffar, Ziauddin Asgar, Mohd Aslam, Mohd Ayyaz, Mohd Wahid, Mohd Shakil, Mohd Ashfaq, Mohd Sabir, Mohd Ibrahim, and Mohd Mushtaq. Most of the offenders had constructed 3-storey constructions illegally. The illegal constructions were razed with the help of JCB and other machines. The safety wall of Mayo Hospital is being constructed soon and other encroachers have been notified to remove their illegal constructions on their own or will be demolished with force.
The action of the Enforcement Department faced strong protests from the offenders but the presence of 140-strong police force prevented any untoward incident.
The drive was carried out Enforcement Department team led by Assistant Commissioner Ashok Patil and comprising Shah, Jamshed Ali, Nitin Manthanwar, Sanjay Shingne, Sharad Irpate and entire squad. ACP Rajratna Bansod, Tehsil Police Inspector Vaibhav Jadhav were among the 140 policemen. Mayo Hospital Dean Shrikhande, Dr Pande and concerned officials and employees were present.