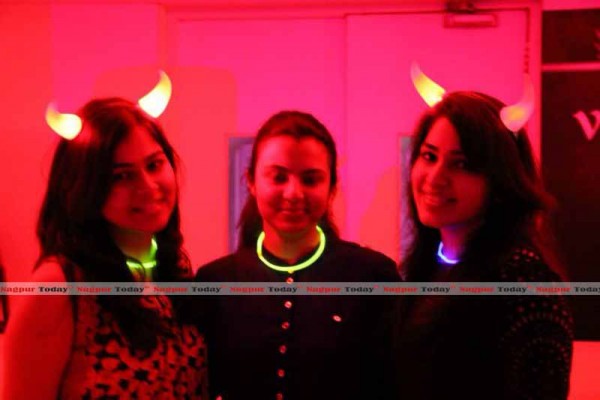 Nagpur Today: Light and everything that is iridescent or illuminating has always been a fascination for human beings. With the changing times, iridescence has been incorporated in various attractive forms. Neon lights have always been an eye-stopper. It has been used effectively in advertising too.
The STARKS organized an event for the Chartered Accountants, wherein they could relax and leave their hair down for once. They could forget their ledgers, bookkeeping, audit objections et al and just relax and have fun.
The party was organized in Fionaa Czaar Resto Lounge. The party started from 5pm onwards on November 23.
The post-examination party proved to be a fun time for the students.
What started as foot taping to the good music of the DJ, soon had guys and gals dancing away to glory. The youth grooved to some of the most popular Hindi Movie numbers. The music played by the DJ which included English, Hindi and Punjabi songs had many even joining the crooner. How can Nagpur youth forget the famous Sandal beats of the drums. Once the beats started, more than a few guys started their typical dance moves.
More than one young guy was eyeing the gals in bewitching attires which was as simple as jeans and top. The guy all cleaned and turned-out neatly in formals and informals had the gals leering over the handsy guys.
A few dared to break the ice and strike up a conversation with a beautiful gal, becoming an object of envy to his friends. Some of the smiles, led to the birth of many probable relationships on one hand while cool snub for some.
The lip smacking Chinese food which included Vegetarian Manchurian, Noodles, Fried-Rice, Crispy Vegetarian dishes. To drown such appetizing dishes, were mocktails with crazy names.
The neon light glasses, bands and other stuffs used in the party added five stars and took the youth to cloud 9. The fun with light, food to suit every palate, lively gathering was soothing to the soul.
The students simply had crazy fun and refreshed and invigorated their souls from their usual monotonous boring routine life that they usually have.