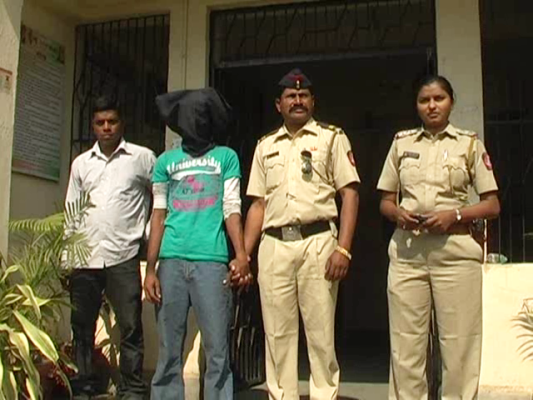 Nagpur News: A 12-year-old visually impaired girl was allegedly raped by a young neighbour near his residence at Servant quarters in Vayusena Nagar on Wednesday.
The accused, Ajay Telgote (20), who works as a gardener in Vayusena Nagar has been arrested by the investigating officer Woman Police-sub-inspector Deepmala Bhende.  Police said that the victim identified the accused by his voice.
According to the police, Telgote had gone to watch the television at the victim's house when he forced himself on her.
"Though being a neighbour, the victim would hardly talk to Telgote. Her parents told that the victim would only step out of the house to attend her school," said Bhende.
On Wednesday morning, the victim's mother was present at home when Telgote had gone to watch the television. The victim's parents also works as a labourer in Vayusena Nagar.
POlice informed that the victim's mother left home around noon for her work. "Before leaving, she asked Telgote to go home as she wants to lock the house but he assured that he will lock the home after the serial ends," said Bhende.
Telgote used to go to the victim's house to watch the television. Later, finding the girl alone, Telgote sexually assaulted her. Police said that the victim screamed and tried to fight against him but Telgote beat and gagged her. Before fleeing from the house, he even threatened the victim that he would kill her is she told anybody about the incident.
POlice said that the victim's 8-year-old mentally challenged younger brother was asleep in the same room when the incident took place.  The victim's father has been out of town from last two days.
POlice informed that the victim even suffered minor bruises while resisting him. The incident came to fore when the victim's mother returned home from work in the evening and found her daughter frightened. During questioning, mother found blood stains on her dress and easily understood the entire matter.
With the help of her neighbours, she reported the matter to senior officials at Vayusena Nagar who then approached Gittikhadan police. On confirming the medical reports, a rape case was registered.
The girl's statement was recorded after she was declared fit by the doctors. Later, a police team headed by Bhende was sent to Telgote's house to arrest him.