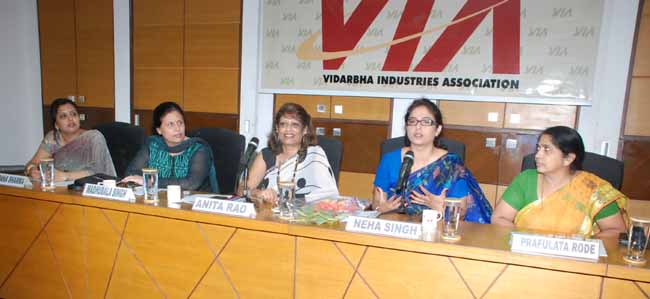 Nagpur News: Nagpur born Neha Singh, Managing Editor and Founder of "FAB" a magazine of women entrepreneurs published from London shared her success story in a programme organized by VIA Lady Entrepreneurs Wing on Thursday, 19th September 2013 at VIA Hall.
Neha an alumni of St Josephs Convent after her stint for 21 years in the advertising and marketing sector started FAB in an effort to inspire, motivate, support others in the right direction. Heading a team of mostly local British Nationals, she has showed the western world the grit and determination of Indian girl.
In her talk Neha said my inspiration for fab happened when I started my own business, after having spent 21 years in the advertising and marketing sector, she found herself walking away from the corporate world to start her own marketing consultancy firm. While she was determined to make it work, it was really time-consuming to find information from so many different sources! Hence fab was an effort to inspire, motivate, support and point others in the right direction. In between she fought cancer twice, but it never deterred her from her focus of making 'Fab ' a grand success. Neha was eventually rewarded by export orders and today her magazine sells in 66 countries.
Later on as a gesture of CSR especially towards woman entrepreneurs, Neha started the 'Fab Foundation' which is into encouraging Women entrepreneurs world wide . Fab Foundation is a forum dedicated to women who want to start up as well as for those who want to scale up and how they can mobilize the resources and overcome the roadblocks. The Fab Foundation is will shortly take off in Nagpur and will be a boon for women entrepreneurs in Vidarbha .
Neha said she started this Magazine with no background of business or qualification with no fear of losing anything. In the initial months she started with 7 team members who worked hard for this magazine. She said commitment of team and trust on your team members was very important. She trusted every team members and the things worked out. She also faced many problems and challenges while marketing, distribution of Magazine. The people, who were reluctant to accept the first coverage of fab Magazine in their retail counter of distribution in her initial time, later approached her and accepted the fab Magazine in their retail counter.
Summing up her talk she said, commitment of team and passion to do the same with hard work with trust is an important factor in running and sustaining any business. She said if you get any opportunity grab it.
After this talk, Madhubala Singh and Meenaxi Dixit, Member – LEW gave and shared their experience and views in "Our Dubai Diary" with LEW members.
The talk was free and was attended by large number of Women entrepreneurs', Members of Lew and students.
At the outset, Neha Singh was welcomed by Anita Rao, Chairperson -LEW, Floral welcome to Neha Singh was done by Madhubala Singh, Advisory Committee-LEW, Introduction and opening remarks was given by Reeta Lanjewar, Vice President-LEW, Memento to Neha Singh was presented by Prafullata Rode, Advisory Committee-LEW, summing up and vote of thanks was given by Vandana Sharma, Secretary-LEW.