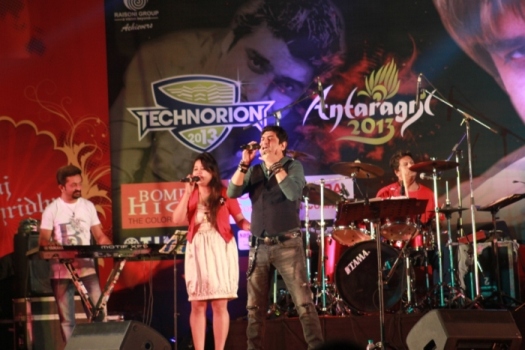 His husky voice makes the girls swoon and his chartbuster songs compel everyone to dance. At the annual fest of G.H.Raisoni College Of Engineering – Antaragni-Technorion 2013, the students as well as the faculty members had an amazing night with the unforgettable Neeraj Shridhar Concert. Just as Neeraj Shridhar walked onstage, a wave of electricity passed through the crowd and they would just not pipe down. He started off with a mellow track "ajab Leher hai " from the movie "Break ke Baad". The next song that followed up was "Hare Krishna Hare Ram " from the movie "Bhool Bhulaiya". The crowd went berserk when he got off the stage and into the audience to make them sing along.
Shridhar made his way into music industry with his band " Bombay Vikings". This band was best known for their unusual combination of classical Bollywood style and European experimentation. The songs that brought him to the limelight were "Kya Soorat Hai," "Woh Chali" and "Chod Do Anchal."After the band split up, Bollywood came calling to his door . In 2006 he entered the Bollywood bandwagon of singers. Since then has delivered over  100 superhit tracks. Some of them being "Race Sason ki"," Hare Krishna Hare Ram", " Character Dheela", "Prem ki Nayya", "Papa toh band Bajaye" to name a few.
The students in the crowd could not keep themselves from dancing to his songs and he happily obliged them by singing non-stop.
Sunil Raisoni (Chairman RGI) and Shoba Raisoni ( M.D RGI) were also present to enjoy the evening and felicitate Neeraj Shridhar . The night could not get any better . With foot tapping music and energetic crowd the event was a grand success. Thanks to the meticulous event planning and the superb organization, everything went off smoothly.
Ritu Walia