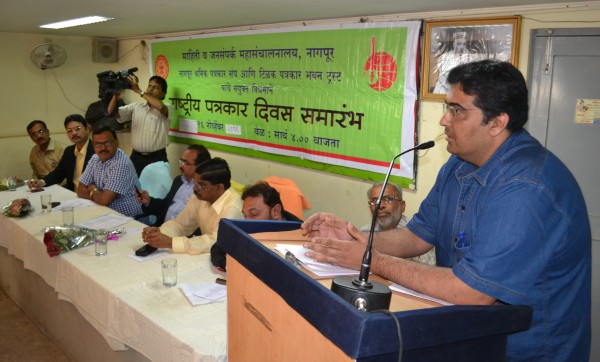 Nagpur News: Tilak Patrakar Bhavan and the Nagpur Union of Working Journalists had jointly organised a ceremony to observe Patrakarita Diwas on November 16. The programme was attended by working journalists of the city, who had gathered to listen to well- known journalistic faces of Nagpur discuss the issue of "Freedom of the medium" given by the Press Council of India.
Municipal Commissioner Shyam Wardhane was the chief guest. President of Nagpur Union of Working Journalists Sirish Borkar, President of Tilak Patrakar Bhavan Pradip Maitra, District Information Officer Anil Thakre, Director of Information and Broadcast for Nagpur- Amravati Region B. M. Kaushal and Rahul Pande from the Hitavada spoke on the issue.
Rahul Pande, in his speech, warned of the perils of unrestricted freedom. He brought up the ongoing conflict about Internet freedom in India and other countries. "The print media is liable to Civil and Criminal Codes. There is no such accountability for the broadcast media", he said. He also quoted Dr. B. R. Ambedkar in saying that the freedom of a journalist is no more and no less than the freedom of an ordinary citizen.
B.M Kaushal agreed with Rahul Pande's views, pointing out that press freedom in India is merely derived from Article 19 (1) (A) of the Constitution, which guarantees Freedom of Speech and Expression, and not freedom of the press per se. He spoke of the insensitivity today of journalists and photographers who highlight petty trivial issues for no reason. He spoke of the Paid News scandal as an example of unrestricted functioning and misuse of freedom by the Press.
Sirish Borkar gave the audience the background to the formation of the Press Council of India, the Registrar of Newspapers and the Press Commission as regulatory bodies. He highlighted the important regulations and legal rulings in the world f Indian journalism, such as the Working Journalists Act and the need to update them. He spoke strongly against corporate takeover of media houses and newspapers, saying that the voice of the majority and the common man gets stifled when elite politicians and businessmen own most of a country's news media.
Pradip Maitra took the discussion a step further by talking about the controversies of current Chairman of the PCI Justice Markandey Katju, saying that the topic of debate is even  more relevant in that light. "One cannot practice in a court of law without a valid degree and registration with the Bar Council, or practice medicine without a degree and registration with the medical council. There are no such rules and regulations for the practise of journalism. Anyone and everyone can run a newspaper, including a dreaded criminal like Dawood Ibrahim".
Municipal Commissioner Shyam Wardhane also spoke about journalistic insensitivity, and the need for a body that can regulate media functioning and make journalists accountable for their work.