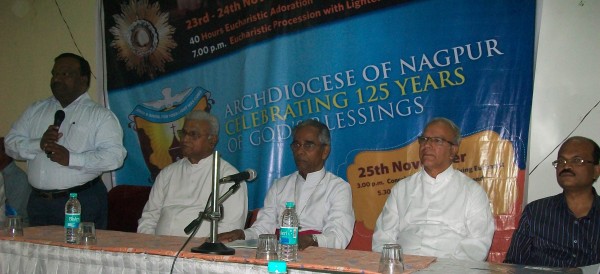 The Archdiocese of Nagpur will be celebrating their 125th Jubliee on 24-25 November 2012. The function is to celebrate the formation of the Nagpur Archdiocese that got carved out of the archdiocese of Visakhapatnam in 1887. It consisted of what was then called Central Province and Berar. The Archdiocese of Nagpur consists of civil districts of Nagpur, Gondia and Bhandara in Maharashtra, and the districts of Betul,Chhindwara,Seoni and Balaghat in Madhya Pradesh.
There has been a lot of programs being conducted over the year and they have being primarily aimed at spiritual renewal of the entire Archdiocese said the Archbishop of Nagpur Rev Abraham Viruthakulangara. According to the Archbishop the archdiocese of Nagpur has taken up a project of providing 125 houses for those in great need.
The function will be held at the cathedral Grounds where there would mass followed by Valedictory function. The Mass will be concelebrated by the Apostolic Nuncio to India (The representative of the Pope) his Excellency Archbishop Salvatore Pennacchio at 3.00 p.m on 25th November. His Excellency Shri K. Shankaranarayanan, the honorable Governor of Maharashtra will be the Chief Guest of the Valedictory Function that would start at 5.30 p.m. The celebrations will be graced by the valuable presence of many bishops and other civil and religious dignitaries.
The programs for the following 2 days are as follows.
Saturday 24th November 2012.
5.00 p.m:-  Eucharistic Adoration ( conclusion of the 40 hours Eucharistic Adoration)
7.00 pm:-   Eucharistic procession with lighted candles
8.00 p.m:- Evangelization through music performed by Jesus youth.
Sunday 25th November 2012
Concelebrated thanksgiving Eucharist
Main celebration: His excellency archbishop Salatore Pennacchio
5.30 p. m
Valedictory function and cultural programme with chief guest Excellency Shri. K. Shankaranarayanan, honorable governor of Maharasthra that will be followed by Dinner.