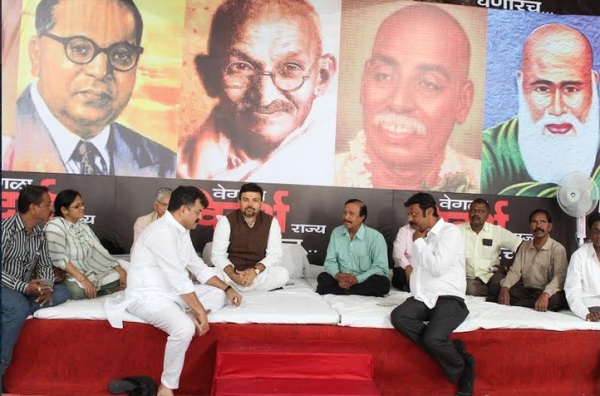 Nagpur News.
The indefinite fast undertaken by Dr Ashish Deshmukh for pressing demand for Vidarbha statehood entered the Day-4. Dr Deshmukh is on indefinite fast since December 6 at Bhaskar Bhavan premises near MLA Hostel in Civil Lines. The Maharashtra NCP President MLA Jitendra Awhad today met the fasting Dr Deshmukh at the venue and asked about his health.
Dr Deshmukh requested Awhad to work hard for passing a proposal in Vidhan Sabha and Lok Sabha as well for creation of Vidarbha State on the lines of Telangana. "When a referendum was carried out in Amravati, 85 per cent of people favoured Vidarbha statehood. A referendum in Nagpur will also be conducted on December 16. Vidarbha is far away from development and until and unless Vidarbha State is carved out, Vidarbha's people and youths would not progress. Even NCP supremo Sharad Pawar had also asserted that if people of Vidarbha demanded separate Vidarbha, the NCP will support the demand," Dr Deshmukh apprised Awhad. Awhad also reiterated his support if people strongly demanded Vidarbha State and the NCP will initiate the necessary action. He extended his wishes to Dr Ashish Deshmukh for success in efforts for creation of separate Vidarbha.
Former Income Tax Commissioner Dhananjay Dharmik is also on fast for one day along with Dr Deshmukh in support of Vidarbha statehood demand. Other personalities who visited Dr Deshmukh include Adv Nanda Parate, Khan Nayudu, former MLA Ramesh Bang, Nagesh Chaudhary, Saoner Councillor Bandu Diwte, Suresh Bandre, Manthan Kedar, Kamalakar Ghatode, Vidarbha Senior Citizens' Association President Dr Shirish Ukalikar, Piyush Dhapodkar, Kishore Belsare, NCP's G V Dhapne, Srinivas Khandewale, Nitin Ronghe, and others. All the personalities supported Dr Deshmukh's demand for Vidarbha statehood. They expressed their thoughts in front of hundreds of supporters. The pioneer of "Youth for Vidarbha State" and Convener of Vidarbha Joint Action Committee Dr Ashish Deshmukh's demand for separate Vidarbha has started to gain momentum with large number of youths, different social and political outfits voicing support for Dr Deshmukh's demand for Vidarbha statehood.