Navbharat Scribe injured in fight with chain snatchers to get back mother's stolen gold chain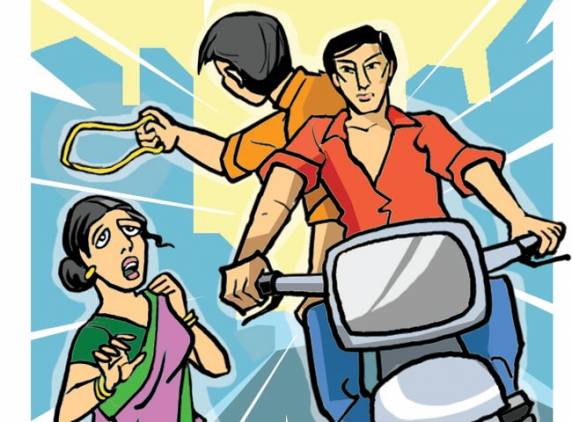 Nagpur News : A local newspaper employee fought with chain snatchers to nab them as well as get back his mother's robbed 8 tola gold chain, but failed when he was hit on head and eyes that collapsed him. The incident took place at victim Prasad Sarangi's residence at Friends Colony in Gittikhadan. Sarangi is employed with a Hindi Daily-Navbharat.
The duo had robbed Sarangi's mother Shobha devi, while she was plucking flowers from the garden of her house on Monday morning. Among the thieves, the rider was wearing helmet and came on a black coloured bike.
Mother's scream alerted Sarangi who immediately rushed to nab the youths. "He had almost get hold of the pillion rider who was fleeing with the valuable but the helmet rider hit him with stone twice on head until he loose his grip and collapsed," said police.
Sarangi's efforts went in vain when the thieves escaped injuring him. He was given immediate treatment at nearby private hospital. Sarangi failed to note down the bike registration number. The police has estimated the loss amount as Rs 1.5 lakhs in the case. However, as per the current gold rate, Sarangi has suffered th eloss up to Rs 2 lakhs. Through the description of thieves told by Sarangi and his mother, police are trying to find the thieves.