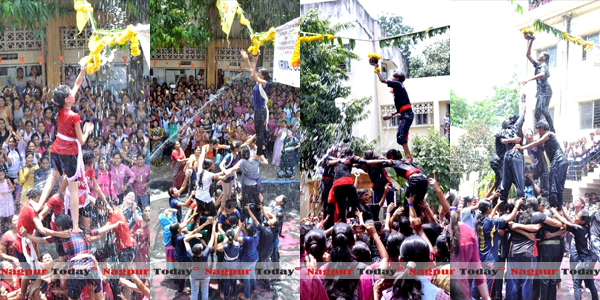 Janmaashtami/ Gokulashtami popularly known as Dahi Handi got celebrated with enormous zeal and enthusiasm at LAD College in the form of a fervent competition, catch for this celebration being that teams participated in this were all 'Gopies'. Spectators in appreciably large number witnessed this unforgettable fervor.
The commencement was done with a loud hooting-'Haathi Ghoda Paal Ki, Jai Kanhaiyya lal ki!' Each participant team had their sleeves pulled being confidant enough for the victory. The gusto went beyond expectations as the blend of perfect Indian Music and water showers on girls begun.
Each team made the almost perfect pyramids, the time when most heartbeats took a faster pace. The 'Handis' at a good height were elegantly broken by every team!
Harsah Jharia, Vice Principal, LAD College was immensely glad to see all the active participations and quoted, "This is the most happening event of the college; students really look forward to it! We have a cluster of actively participating colleges. This serves as a sign of women empowerment as well I feel where they get to showcase their hidden talents."
PICS BY : Amol