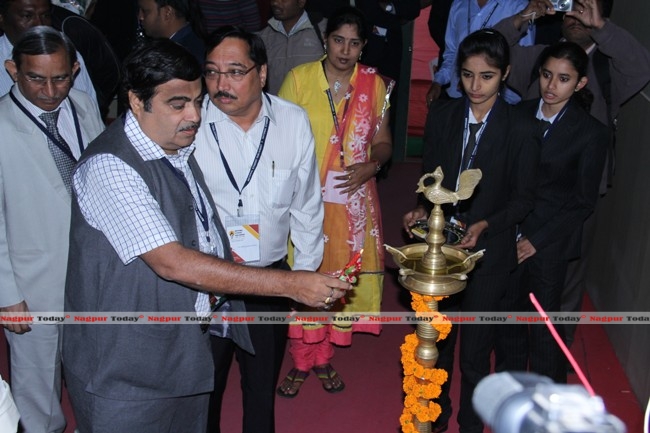 Nagpur Today:
Much awaited National Student Parliament inaugurated by the hands of Mr. Nitin Gadkari, Ex-President BJP, in presence of  Ajay Sancheti, MP, Vice Chancellor V.S. Sapkal, Author Chetan Bhagat, Former Miss Universe Diana Hayden, Chairman of RGI Sunil Raisoni & Senate Member  Shobha Raisoni. The prominent personalities on the dias shared their knowledge & experience in order to boost the participating youths to put in their best for the country. They appealed to be the change & bring about a revolution to make India a Super Power.
In all there were about 1000 participants from all across Vidarbha.
A grand opening for the unique first ever National Students Parliament commenced. While addressing the students of Raisoni Group of Educational Institutions former chief of BJP party Nitin Gadkari said, "Though this is not a platform for political motivation, yet I would like to appeal that you can join BJP, or you can even join Congress or even Aam Admi Party (when the students shouted in one voice AAP).
The Indians have an opportunistic thought pattern. Our country's attitude is narrowing towards zero. We are a rich nation with poor population because of wrong policies of the Government. He said that one need not succeed only because he has acquired specific qualifications in one particular field. Where there is a will there is way. All that is required is daring, successful leadership, dynamism, conviction by the leadership. Focus on positive attitude. Self Confidence is what is required of the youth today. The world bows down to those who can make the people bow down. Intelligent people don't want to enter politics. He explained how he was successful in making various structures especially the flyovers in Pune and sea link in Mumbai. He said that if will power is present then a flyover can be made and completed in 2.5 years."
The first session – 'What young India wants?' was chaired by vice chancellor Sapkal. The prominent speakers in session I were Chetan Bhagat, Durgojoy Dutta & Diana Hayden who motivated the youth to bring a positive change and be able to achieve what they dream of.
After the inauguration Chairman of Raisoni Group of Educational Institutions Sunil Raisoni introduced the guests. He spoke how the institution aims to create an opportunity for all the students to realize their true potential by actively participating in various social procedures to become dynamic, empathetic and effective leaders of our country.
MP Rajya Sabha, Ajay Sancheti spoke and said that starting this Student Parliament in Nagpur is a historic beginning and the results of this programme will be seen in future. He opined that the physical presence of the youth in politics, Vidhan Sabha and other relevant places need to be improved a lot. The state and direction of the country today needs to change substantially and only the youth can do that. There are going to sessions on many socially relevant issues like India in 2020, Social Media, Education and Indian Politics.
I have nearly 2.5 years experience in the parliament and there many discussions are held, deliberations over the issues are held and after that laws are passed." He appealed to the students to pay attention and listen to everything the experts have to say carefully, understand them and after that discuss the issues and express your views. This will help in getting the entire process of what goes on in the National level and how what you can do be relevant. He also said that all the resolutions passed after each session will be sent to the leaders sitting in parliament so that the opinions of the student will also be heard there. Instead of dwelling in who said what, what is required today is the students tell this is what we want and this is our contribution towards that. He said that where there is will there is a way. Criticism is the easiest thing any can do but youth has immense power. If you think positive, then sky is the limit. Join active politics and play a constructive role in the development of India.
While addressing the students of Raisoni Group of Educational Institutions, Chetan Bhagat talked about the importance of culture, power and youth. He explained of what is wrong with India. According to him, China and India were the same in income earlier. He added that according to Indian politics, religion, class and caste. Chetan Bhagat made a comparative study of the Congress party and BJP party. He said that Congress has had 60 years in power of the total of 67 years of Independence. We have the 4th generation of Gandhi family in power. He explained how vote bank politics play an important role; how Congress encashes on Muslim, and minority votes. On the other side the BJP has always had the middle class, Hindu majority and recently is catching up. However consequence of this rule has brought about monumental scams, poverty and poor governance.
However he agreed that the times have changed. He added that social network is playing a vital role in politics. He said that the media power is rising and so is the frustration of the masses. Many movements especially the anti-corruption movement has been brought about, yet there has been no change. This is because the government, as well as the citizens is weak. Everyone is here because of personal motives. Everyone wants to know what they'll get, if he comes to power or if someone else who is of a particular religion, race, regional affiliation comes to power. According to him we have Freebie policies. (You will get this free with the purchase of that)
He expounded on the great Indian Psychotherapy. He talked about our servility, Numbness to injustice and divisiveness. He concluded with how long the common man will remain common. Shouldn't he become special? (Kabhi toh Aam admi ko bhi khas admi bhi bannana hai)
Diana Hayden while addressing the Students of Raisoni Group of Educational Institutions started her talk by asking the entire audience to get up, stretch their hands up, move the head to the right and left and in a small exercise made sure everybody is relaxed after a long session of many speaker. She said that she claimed that she has struggled to reach where she is today. She said that when she came to Mumbai, she just had Rs 250 in her pocket. She explained how after two nights she was helped by a Pakistani lady who took her in and she worked as a telephone operator and how she was promoted to a receptionist position only because she gave her 100 percent in whatever she did. She asked the audience if they believed that she was an 8th class drop out? She said she does not advocate dropout attitude but explained how educational qualification helps in making listen to you. She appealed to the students to excel in the profession that they have chosen and how they should strive hard which alone can help in achieving the desired result. She said that if the students want the leadership of the nation to listen to them, they should prove their worth in education and involve actively in political matters. She said that the students should definitely vote to make their presence felt by the government.
With an aim to provide and share a common platform to the young leaders who are dynamic, vibrant and change agents so that they can rise above the present system and strive for bringing about a change, this Mega National Student Parliament was organized.
The 2-day programme will be on the themes 1. What Young India wants, 2. India at 20-20, 3. Fighting crime against women, 4. Social Media Boon or Bane, 5. Indian Education System & 6. Indian Politics Scams & Corruption.
The Delegates, students, professionals and Academicians. The speakers for the 2 day sessions are : Dr. Vilas Sapkal, Durjay Dutta, Chetan Bhagat, Diana Hyden, Dr.Rajan Welukar, Shekhar Suman, Jaya Row, Sanjay Nahar, CA.Jaydeep Shah, Dr. Uma Vaidya, Prabhu Chawala, Nishigandha Wad, Supriya Sule, Anup Soni,Dr ADN Bajpai, Hemant Jain, Sorav Jain, Sunil Barve,Nikhil Wagle, Dr. Pankaj Chande, Dr. B L Sharma, Dr. D N Johar, Jayanti Ravi, Sarita Kaushik, Dr.Ved Prakash Mishra, Sudhir Mugatiwar, Ashish Jaiswal, Hansraj Aher and Manish Awasthi.