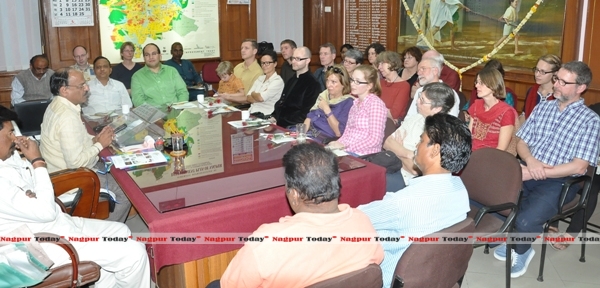 Nagpur News.
A delegation from Indo-German Co-operation delegation under the leadership of Dr Jona Dorman paid courtesy visit to Nagpur Municipal Corporation ( NMC) this evening. Mayor Anil Sole welcomed the delegation with bouquet in his chamber. At present 22 representatives from various Non Government Organizations ( NGOs) working under the aegis of Indo-German Co-operation are  on 10-day study tour of Nagpur. They have heard about Nagpur city in high terms of Clean-Nagpur, Beautiful-Nagpur , Green-Nagpur. So it was a visit to get acquainted with city administration and its working. Dr Jona Dorman mentioned it without fail and with pride of her birth at Mure Memorial Hospital, Nagpur. She also told about the rain-water-harvesting project underway in collaboration with NEERI.
Speaking on the occasion Mayor provided  information about geographical, historical importance, water supply scheme, solid waste management, drainage project, slum area improvement project, Nag River cleaning project. He also provided information about Nagpur Municipal Corporation's meetings and administration. He also held discussions with woman volunteers who have come from Germany for working in the slum improvement project. The volunteers said that they are very satisfied by working with the project. Vilas Shende, Director and Secretary of Mure Memorial Hospital was present on the occasion, he introduced the members of delegation to the Mayor. On this occasion Dr Dorman presented the Mayor with a informative booklet and a diary. Ulrich Wagnor has been coming to Nagpur since 1982 he was informed. He was all praise for the development projects of the city.
On the occasion were also present Health Committee chief, Ramesh Singare ,Fire Brigade chief Kishor Dorle, NMC leader Shrawan Khapekar and other dignitaries.