RCEM's International Conference on Electronic Systems Signal Processing and Computing Technologies begins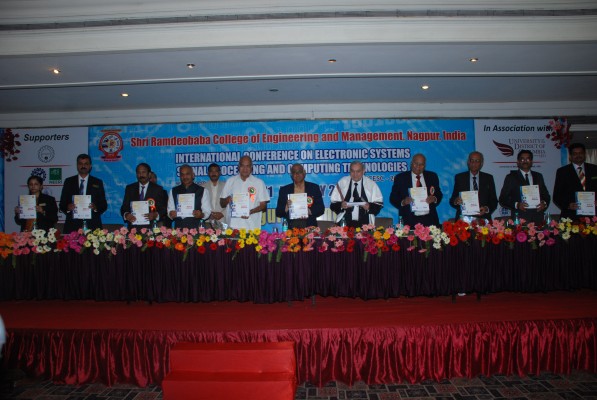 Nagpur Today: Shri Ramdeobaba College of Engineering and Management (SRCEM) has organized a 3-day International Conference on Electronic Systems Signal Processing and Computing Technologies beginning from January 9. The inaugural session was held at Hotel Tuli Imperial in Ramdaspeth,  Nagpur. The Chief Guest of the Conference was Padma Bhushan Dr. V. K. Aatre, Former Scientific Advisor to Defence Minister.
Dr. V.K. Aatre, in his inaugural address said, "The Poly silicon which is used to develop multicore chips is not available in India and cited this as one of the reasons for slow progress in manufacturing chips. Elaborating on this, he said that the Government should decide to bring in more foundries adding to the existing ones of Noida and Gandhinagar which are out of reach of the academia and thus affecting the academics."
Speaking on Nanotechnology, Dr Aatre mentioned that IIT Mumbai and IISc Bangalore have good Nanocentres and can even be called the best compared to Seattle and Michigan in USA. More such centres are being developed at IIT Delhi and Chennai, he informed.  He suggested that India has to learn how to fabricate chips on its own that would give it an economic edge thus fostering its dream of becoming a super power.
He further reiterated that he has never seen any Indian fail on a foreign soil which assures that there is no dearth of knowledge.  This knowledge has not been converted into a product which yields wealth. It is now the need of the hour to create something like Microsoft and Intel for which people crave to buy. "Next decade is crucial for India as we have to generate enough wealth for the country to become self- sufficient.  There is a symbiotic relationship between the industry and academia, i.e. universities should be instrumental in triggering technology.  Therefore, academicians should go beyond the teaching of the concepts." Referring to the book "The Earth is Flat," Dr Aatre said that countries which are not providing knowledge for engineering will not succeed. Technology, he said, is dual and can be used as well as abused. Society has a significant  role to play for the use of this technology.
India requires policies and its implementations and that is a challenge for India today. Such policies are conspicuous by their absence. He emphasized that Science policies should be drafted by professional societies only and not politicians. There is no dearth of talented manpower in India and such conferences with technical session should ensure proper implications. In his concluding remarks of his address, Dr. V K Aatre urged the gathering to change its mentality towards making technology important.
In his welcome address, Principal of SRCEM Dr. V.S. Deshpande said that this International Conference is small contribution to the technological society and stressed that deliberations in the conference will be useful to the students, researchers and everyone associated with technology. Dr. R.S. Pande, Vice -Principal and General Chair informed the gathering about the research papers received and that best papers will be published in a special issue of International Journal of Embedded Systems (IJES), Inderscience publishers.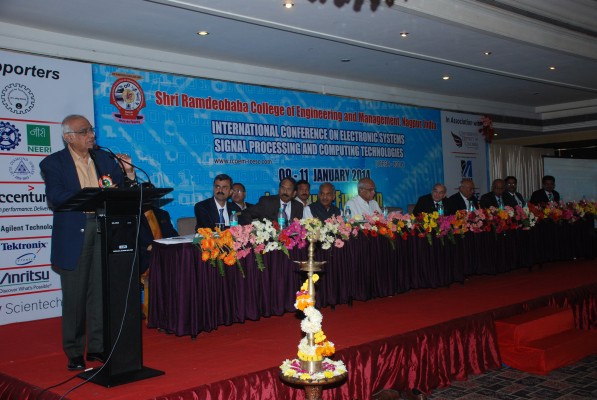 Dr. M.B. Chandak, General Chair of the conference introduced Dr. Kanti Prasad to the gathering. Dr. Kanti Prasad, in this address, urged the learned gathering to integrate research into curriculum and until this is done, it wouldn't benefit the academia. He also stressed that the core mission of the teaching fraternity should be a plan to prepare students for state-of-art-technology which is in demand now ,thus fostering their ready employability.  Furthermore, he reiterated that fundamentals from basic sciences are the important tools. And these basics further facilitate effective designing.  Explaining the significance of hardware and software, he emphasized working on both to succeed. Talking about "competition" Dr. Kanti Prasad said that it is not besides you but ten thousand miles away.
Prof. R.B. Raut introduced Dr. Devdas Shetty. Dr. Devdas Shetty appreciated the quality of the conference and further said he was happy to participate & interact with all the participants and delegates. He said that such endeavors will further open vistas for foreign and leading Universities to exchange information and ideas.
Vinit Kotak congratulated the organizing committee of RCOEM for organizing an International Conference which has become another milestone in the history of the college.
The highlights of the conference were the release of the proceedings and a formal exchange of MoUs with representatives of University of Cumbria, Dr. Xiongwei Liu and Ms. Padmini Parmeshwaran from North Cumbria University, UK.
Guest of Honour for the conference, Dr. Barbara Masi, Director, Education Innovation and Assessment Initiatives , Arts , Science , Engineering  from University of Rochester ,  in her online address said that it is a perfect time for India to bring in changes and she takes pride to see the changes in Indian Universities.
Chairman of SRCEM Banwarilal Purohit, his presidential address, said that India is rich in culture, & traditions. The  epics: The Ramayana, Mahabharata and Geeta which we inherited from our forefathers are varied and enriched with technology. We somehow lost our wealth of knowledge to the invaders and started on level zero. The new generation of India will be motivated and will see India as a superpower in the years to come. He urged the teaching fraternity to work towards this goal. He further elaborated that objectives of this conference are to motivate young minds and channelize their talent in a productive manner. Describing Nagpur as the Heart of India, he said it will imprint its mark on the global map with such learned and eminent personalities deliberating for the cause. In this race, he urged to follow ethics and morals and thanked the august gathering for their gracious presence.
Prominently present on the occasion were Dr. N S Choudhary, Director VNIT; Dr R V Kshirsagar, Dean  Faculty of Engineering, RTMNU; Dr Avichal Kapoor, CEO Meghe Group of Institutions; Dr R M Patrikar, Dr R B Deshmukh , Dr A G Keskar,  Dr K M Bhurchandi, VNIT Nagpur.   Principals of various Engineering Colleges of the city were also present. Officer  on Special Duty, Indu Agarwal, RCOEM , Pradeep Agarwal, Chairman Temple Committee, Heads of various Departments and faculty members marked their presence.
Dr. (Mrs) A. A Khurshid concluded the inaugural function with a vote of thanks.
Faculty members  Dr R D Raut, Dr. R S Ochawar, Prof (Mrs.) P K Joshi,  Prof V R Rathi, Prof S Balpande, Prof J Sharawankar, Prof M Wanjari, Prof (Mrs) B Neole,  Prof A Agrawal,  and Student Volunteers  Mohit Malviya, Deepak Jha & Surbhi Bhutada worked hard  for the success of the programme.
Earlier, Lord Ganesh Vandana to invoke his blessings and lighting the traditional lamp by the guests inaugurated the International Conference on Electronic Systems, Signal Processing and Computing Technologies (ICESC-2014) on the auspicious day of January 9, 2014.
Chairman of RCOEM Banwarilal Purohit welcomed Dr. V.K.Aatre with a floral bouquet. Dr. M.B. Chandak welcomed Dr. Kanti Prasad. Dr. A.A. Khurshid welcomed Dr.Devdas Shetty. Dr. D.S. Adane welcomed Mr. John Rowe, London School of Training, London, UK. Prof. Q.H. Jeevaji welcomed Mr. Rajdeep Choudhury, London School of Training, London, UK with a floral bouquet. Prof. P.A. Dwaramwar welcomed Dr. Xiongwei Liu. Ms. Padmini Parmeswaram was given a floral welcome by Dr. N.P Narkhede present on the occasion. Mrs. Kanti Prasad was given a floral welcome by R.R. Harkare. Sandhya Shetty was a given a floral welcome by Padma Adane. Avichal Kapoor CEO Meghe Group of Institutions was given a floral welcome by R.R. Khandelwal. Dr. R.M Patrikar was given a floral welcome by Dr. Rohini Asamwar. Dean of Engineering RTM Nagpur University Dr. R.V. Kshirsagar was welcomed by Dr. P.K. Parlewar. Ex Director of RCOEM Dr. S.T. Deshmukh was given floral welcome by Prof. R.B. Raut. Prof. Vikas Sharma, Northumbria, UK was given a floral welcome by Prof. R.R. Khandelwal. Present on the dais were Vice–Chairman Chandrakantbhai Thakkar & Satyanarayan Nuwal. General Secretary Govindlal Agarwal  also graced the occasion.
Chairman of RCOEM Banwarilal Purohit felicitated Dr V.K Aatre, Dr. Kanti Prasad, Dr. Devdas Shetty, Dr. Paul Cotae, Mr. John Rowe, Rajdeep Choudhary, & Dr. Xiongwei Liu with a shawl, Shriphal, & a memento.