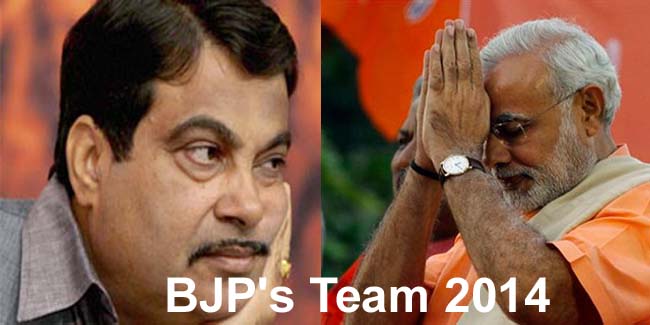 Nagpur News: After a six-year hiatus, the Bharatiya Janata Party (BJP) reinducted Gujarat Chief Minister Narendra Modi in the party's Parliamentary Board.
Nitin Gadkari is now part of BJP Central Parliamentary Board.
Modi's selection is seen as a major boost to his prime ministerial ambitions.
Also, Modi is the only chief minister included in the new team of office bearers. Madhya Pradesh Chief Minister Shivraj Singh Chauhan has been ignored in the team.
BJP president Rajnath Singh, who met the party's patriarch LK Advani this morning ahead of the major announcement, named former Gujarat home minister Amit Shah, Varun Gandhi, Ram Lal, JP Nadda, Ananth Kumar, Dharmendra Pradhan, Muralidhar Rao, Rajiv Rudy, Thawarchand Gehlot, Tapir Gao as general secretaries of the party.
Rajnath Singh (president), Atal Bihari Vajpayee, Lal Krishna Advani, Dr Murli Manohar Joshi, M Venkeya Naidu, Nitin Gadkari, Sushma Swaraj, Arun Jaitely, Narendra Modi, Ananth Kumar, Thawar Chand Gehlot, Ram Lal now comprise BJP Central Parliamentary Board.
Smriti Irani, ex-Karnataka CM Sadananda Gowda, Mukhtar Abbas Naqvi, Prabhat Jha, Balbir Punj, Uma Bharti, Kiran Maheshwari, Dr CP Thakur, Jual Urao, SS Ahluwalia, Satpal Malik, Bijyo Chakravarti and Lakxmikanta Chawla have been named BJP vice presidents.
Notably, the parliamentary board is the highest decision-making body of the BJP and Modi's elevation is being viewed as a step to bring him to the forefront keeping in view the upcoming 2014 General Elections.
Meanwhile, the induction of Amit Shah, who had to quit as Gujarat home minister after the CBI accused him of being part of the conspiracy to kill Sohrabuddin Sheikh in a fake encounter, into the Parliamentary Board has reportedly split the party with a faction opposing it.