Nagpur News.
In the aftermath of terrorists' siege at Westgate Mall in Nairobi much similar to the 26/11 attack in Mumbai, the focus has once again shifted towards the security of these plush properties back home. Nagpur too has good number of malls and more coming up, and it has gone imperative to peep into the sort of security deployed at these malls.
Recently in a decoy operation in Mumbai, around 200 cops were sent across various malls there to get the stalk of security situation there. Around 165 reportedly managed to get in with firearms and material of destruction. Owing to the serious security lapses pointed out in the operation, the additional commissioner of Mumbai Madhukar Pandey has enforced the concept of grading malls based on the 20 point security parameters. The officer even looks forward to cancel the license of the establishments in the malls not adhering to prescribed security norms.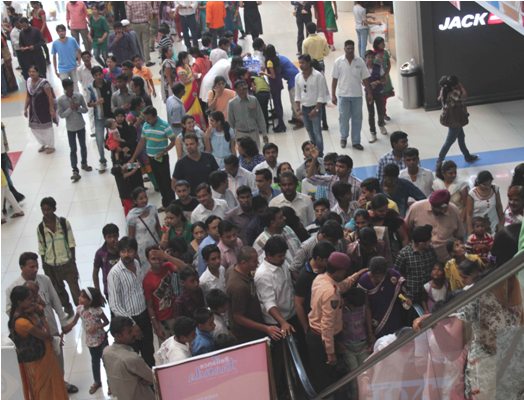 Nagpur Today got hold of the situation in city malls and found similar security lapses in many of them. The security at check points in various malls remarkably falls short of the quantum of compliance that is required to avoid any such serious breach.
We questioned Nagpur Police Commissioner KK Pathak if he has any such pointers in place to check through the security arrangements at these malls. Pathak said that the security criteria differ with every establishment. The amount of security to be beefed up depends upon the sensitivity of the area.
When asked if he has any plan to readily take the cognizance of the security lapses in malls and public places across the city, he said, "We would be calling the meeting of our officials and mall owners in a day of two and hold the detailed discussion in this regard. Only after the discussion with the people concerned we would come out with the security guidelines."
Upon the Mumbai pattern of grading malls into various categories of security, he said they are not following any pattern but have our own mechanism in place. "We have our own line of action and we know our duties," he quipped.
Nagpur Today gives an account of the security guidelines enforced for malls in Mumbai. We feel similar guidelines can also help step up security in Nagpur.
– Thorough checking of every person entering the establishment
– Private security guards should be trained in handling explosives; Mumbai police is willing to train them
– Every vehicle, including goods vehicles, entering the mall or multiplex should be checked
– CCTVs should be installed; they should be able to store footage for a minimum of 30 days
– Armed guards should be deployed
–  Public announcement systems (PAS) and emergency routes should be present
– Cross-verification of employees
– Alarm systems