MP Muttemwar flags off the inaugural run of Nagpur-Ajmer train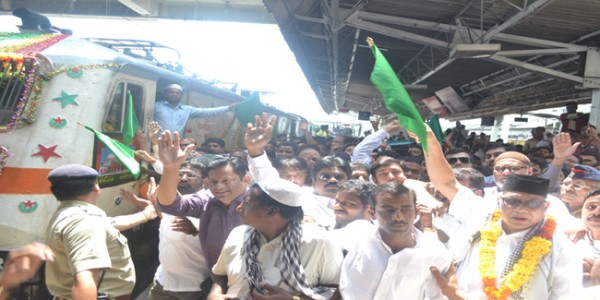 Nagpur News: Nagpur Railway Station turned Green with hundreds of devotees and followers of Sufi Saint Khwaja Garib Nawaz Moinuddin Chisti thronging the railway station to board the inaugural run of the Nagpur-Ajmer-Jaipur train. They had a sense of piety and elated faces as their dreams of seeking blessings of Sultan-ul-Hind, Moinuddin Chishti came true after a long time. The scene at the railway station turned into divine and sacred atmosphere with devotees going on chanting when MP Vilas Muttemwar flagged off the maiden Nagpur-Ajmer train by raising the hallmark Green Flag precisely at 11:55 am on Thursday.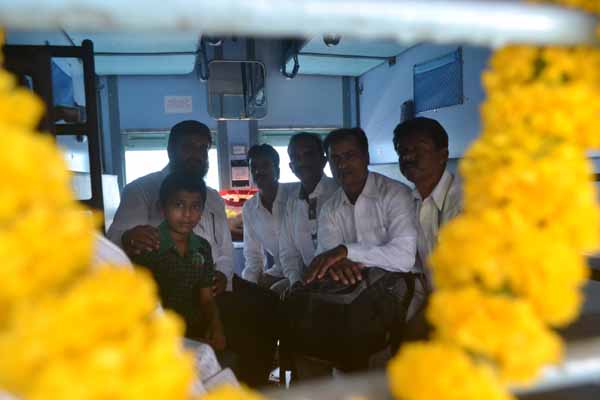 As soon as the train started moving, hundreds of hands waved from the  windows of the train to the near and dear ones who were present to bid farewell. Nagpur Railway Station witnessed an extremely large number of people who were present to greet the devotees and followers of the Garib Nawaz.
The occasion was also graced by MLA Dinanath Padole, MLA Sudhakar Deshmukh, former State Minister Satish Chaturvedi, Opposition Leader in NMC Vikas Thakre, Divisional Railway Manager, Central Railway Brujesh Dixit and prominent others.
The dream of Nagpur MP Vilas Muttemwar has finally come true since it was him who made tireless efforts to start the direct train to Ajmer from Nagpur. His efforts fructified and bore results with the Railway Minister Pawankumar Bansal announcing the beginning of Nagpur-Ajmer train while presenting the Railway Budget for 2013-14. We honour the relentless efforts of Nagpur MP Vilas Muttemwar.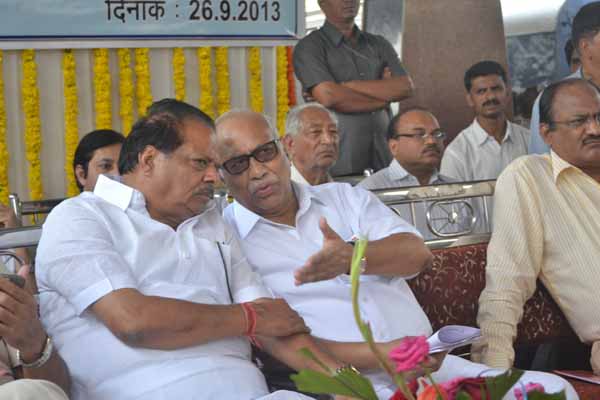 The train will facilitate devotees and the followers of Garib Nawaz Hazrat Khwaja Moinuddin Chisti to visit his Dargah in Ajmer. The weekly Nagpur-Ajmer-Jaipur train, bearing number 11203, will run every Thursday from Nagpur and reach Ajmer and Jaipur on Friday. The return journey of the train bearing No. 11204 Jaipur-Ajmer-Nagpur will begin on Friday  and will reach Nagpur on Saturday.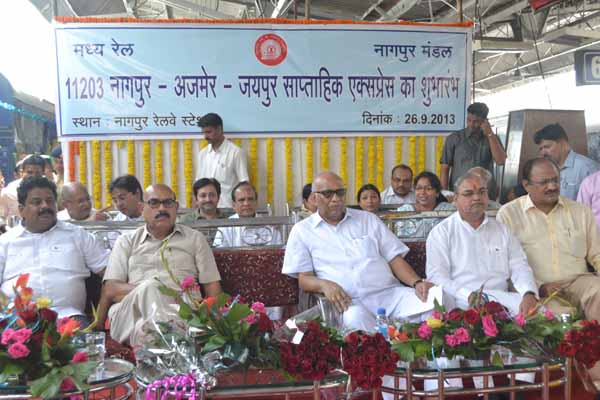 Following is the schedule of Nagpur-Ajmer-Jaipur train.
11203 Nagpur-Ajmer-Jaipur Express (Weekly): The train will begin its journey on every Thursday at 11.55 am and will reach Ajmer on Friday at 11.45 am. The train then will begin its journey at 11.55 am and reach Jaipur at 1405 hours. The Nagpur-Ajmer-JaipurExpress will arrive in Katol at 12.41 pm, depart at 12.43 pm, reach Narkhed 13.03 pm, depart at 13.05 pm, arrive at Pandhurna at 13.22 pm, depart at 13.24 pm, reach Multai at 14.10 pm, depart at 14.12 pm, arrive at Baitul 14.52, depart at 14.55, reach Itarsi at 16.55 and will depart at 17.00 pm on Thursday itself.
11204 Jaipur-Ajmer-Nagpur  Express (Weekly):  The train will begin its return journey on every Friday at 16.30 from Jaipur and will reach Ajmer at 18.55 and depart at 19.25 hours. The train will reach at Nagpur at 19.15 on Saturday.
Stoppages of 11203 Nagpur-Ajmer-Jaipur Express (Weekly):  Katol, Narkhed, Pandhurna, Multai, Baitul, Itarsi, Habibganj, Bhopal, Sehore, Shujalpur, Barchha, Ujjain, Nagda, Ramganjmandi, Kota, Bundi, Mandalgadh, Chittorgarh, Bhilwada, Vijaynagar, Nasirabad, Ajmer, Kisangadh, Fulera, Asalpur, Jobner, and Kanakpura.
The train comprises of a total of 18 coaches including one II Class Air Conditioner coach, one III Class Air Conditioner coach, 11 II Class sleeper coaches, 3 II Class general bogies  and two luggage-cum-brake vans.