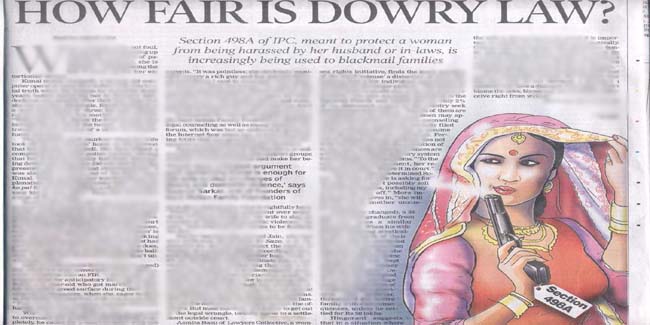 Nagpur News: The city chief of a Nagpur based Hindi daily is surrounded by legal hurdles in Mumbai over allegations of his cricketer wife regarding domestic violence and dowry harassment against him. Not only Nidhi Buley, 26, international player from country's women's cricket team leveled charges against her husband Vihang Salgat but also framed her in laws for the dowry harassment. The role of Sion police in the entire matter is highly questionable as the cops have arrested Salgat despite the fact that divorce case between the couple is already pending at Indore family court.
Talking to Nagpur Today, Vihang Salgat, who is running from pillar to post in Mumbai, said, "I have spent seven days in Arthur road jail. Police have registered one-sided case without taking into account both the sides. Now I am struggling to get the bail for my parents as they are quite old aged and would be arrested for no fault of them."
Narrating his side of story, he said that he had merely spent just 5 days with her wife since marriage as she refused to stay with him at Aurangabad where he was serving Dainik Bhaskar group. He informed that Nidhi is a central railway employee and she pressed Vihang to come down to Mumbai as she could not be transferred at his place. Later Vihang joined Lokmat group in Nagpur assuming that the city is under central railway and transfer of her wife can be possible here.
Meanwhile, he was continued to be insisted by Nidhi and his inlaws to move to Mumbai. When the things did not take favorable turn, the blame game begun and police complaint was filed against him with Nagpur police. Thereafter, Vihang sent legal notice in January and filed for divorce in a family court in Indore in Madhya Pradesh.
Vihang alleged that she never appeared at any of the hearing, adding that later the girl's side got an FIR registered against him in Mumbai. "Since I was not able to go to Mumbai, I sent my reply through registered post. She is related to political family and this influence was used to get me arrested from Nagpur on April 9," he said.
He also questioned the role of police in the incident asking how a case could be registered against him regarding domestic violence and dowry harassment when he has already filed for divorce way back. He alleged that despite the fact his so called wife has not lived with him for a single day after honeymoon, a political clout has been used as a tool to target him.
He said that Nidhi is relative of state's Chief Minister Prithviraj Chavan whose wife had come to his marriage ceremony. "Now I have to visit Sion police station tomorrow," he said.
Nidhi Buley, a left-arm slow bowler, has played test and ODI matches for the country, had lodged a complaint with the Sion police, which recently arrested Vihang. Nidhi had an arranged married on January 29, 2012 with Vihang.
In her complaint to the Sion police, Nidhi had alleged that after the marriage, her husband Vihang, father-in-law Dinkarrao (65), mother-in-law Usha (61) and sister in-law Aparna Yash Waghmare (36) had harassed her on various instances. The family had also asked the complainant to get Rs 3 lakh from her parents to buy a car. However, when she refused, her husband allegedly beat her up.
Vihang was arrested under Section 498-A, 406 and 34 of the IPC on April 10, and released on bail on April 19.
Vihang said, "She mislead the police by not informing the officials about our divorce case. A (dowry) case cannot be registered, if a divorce matter is on in court. The police did not even listen to my side of the story before arresting me."