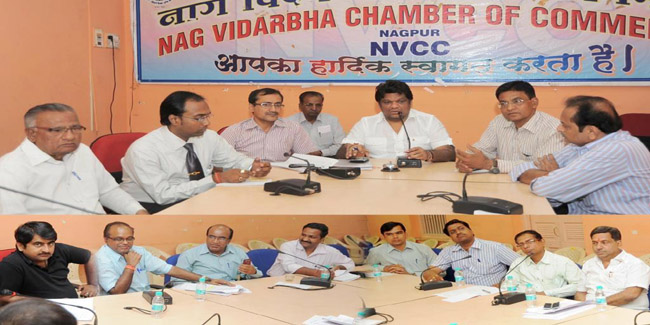 Nagpur News.
Nag Vidarbha Chamber of Commerce (NVCC)– a Nagpur based traders' body often find itself in the mess of things when it comes to resolving series of problems being faced by its members. Prompted by the current situation, a section of media has suggested NVCC President Dipen Agrawal to make concrete efforts for their representation in state legistature. The critics were of the view that when teachers who draw salaries from exchequer can have their way to more than half of the seats in both the state legislative assembly and legislative council, then the big ticket taxpaying traders could also be considered for the ranks. An idea of allotting special 'Trader Constituency' also cropped up during the meeting of NVCC members with a battery of journalists in Nagpur on Monday.
However, Agrawal doubt the possibility of the idea in view of traders' current agitation against the state's Chief Minister.
Experts were of the view that most of the problems being faced by the traders could be attended on priority if someone from their community represents them in the House. It was even suggested that during upcoming elections, NVCC should support only that party which would announce Trader Constituency in its manifesto and promise to initiate concrete efforts in this direction. NVCC could pass a resolution among its members and submit memorandums to the party in this regard well before the election.
The suggestions came in during deliberations over anti-LBT strike of the traders which continued for 32 long days. Even today when the agitation met success, the members have to depend on minister, MLA or MLC to get the committee formed. Even the traders have to call for fresh strike of two days again to push their demand further. The problem could be eased to considerable extent if Trader Constituency is formed.
The office bearers and representatives of NVCC along with other major traders' organizations gave a concentrated heed to the views and appeared all set to move ahead with the resolution. However, it remains to be seen how far the determination of traders will go.
AGM of NVCC on July 30
NVCC will be stepping into its formation of new executive body on July 30 when its steering committee would decide upon the structure and members of new body to be formed for another one year. Sources however informed that the new executive body has been almost finalized even before its annual general meeting (AGM). Barring changes at 3-4 positions, rest will remain the same, sources added.