Labourer loses leg owing to docs' negligence at Mayo hospital in Nagpur; NCP demands probe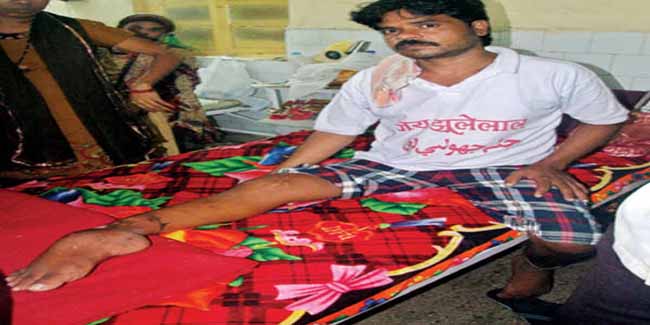 Nagpur News:
In a clear example of sheer negligence, doctors at orthopaedic department in Nagpur's Mayo Hospital amputated right leg of a labourer last week. It was alleged that the doctors had to cut the body part owing to the carelessness while administering treatment to the patient. He has been suffering the pain since last one year.
Ramchandra Tirthani, a resident of Parwarpura in Kamptee is a handicapped person now, thanks to the surgeons at Mayo.  It started on February 5, 2012 when Tirthani was rushed to Mayo hospital after he met with a serious accident. He suffered fracture in the bones of right thigh, knee and paw. Next day, his paw was operated and later a rod was fixed into it. Three months later when he was operated again to take out the rod, the doctors realized that the bones were wrongly joined. He was operated again in November, 2012. Again the surgery was performed in January 2013 to extract the rod, soon after which, Tirthani faced stiffness in paw. He was not able to bend it.
Seeing no solution in sight, the doctors finally amputated his leg last week on July 13 due to steady poisoning. At that time the patient was consoled that he would be able to move with the help of Jaipur foot. Tirthani arranged for Rs 5000 for the Jaipur foot. However it caused wound to the operated area which resulted in severe infection and pus formation.
Head of orthopaedic department Dr. S. R. Koichade then opined that the wound could not be cured and the part had to be cut off. Even then they assured that he would be able to use Jaipur foot for movement.  Ramchandra helplessly nodded to the doctor's advice.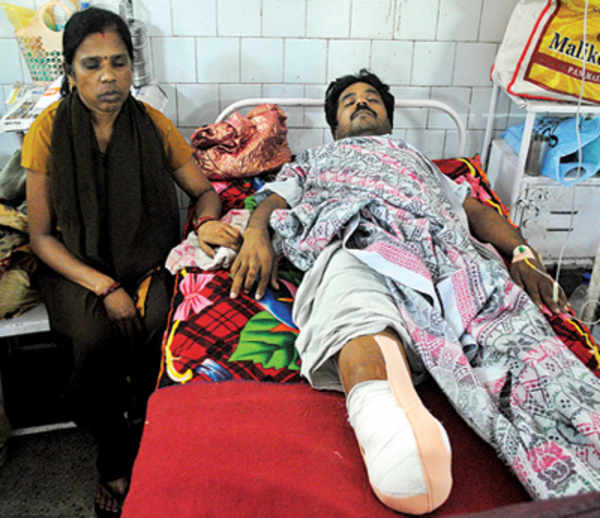 Ramchandra's wife Sumitra informed that many doctors, when shown the reports, were surprised to know that the case have worsened to this extent. This indicated negligence on the part of surgeons.
However, Dr. Koichade defended the allegation saying that the patient was brought to the hospital in critical condition. There were multiple fractures and veins were badly affected. His leg could not be cured despite various efforts. He clarified that after due approval from the patient they took this step.
Miseries ahead for Ramchandra Tirthani
A hand to mouth labourer Ramchandra Tirthani had to face the miseries of life as he had to leave work after he became incapable to move. He would spend Rs 500 for making visit to Mayo hospital from his house in Kamptee. He had taken loan for his treatment. Now that he has lost his leg, he would have to face the worst as the big problem of survival has surfaced before him.
NCP demands inquiry
Nationalist Congress Party has demanded inquiry into the matter alleging that the incident was caused due to negligence on the part of doctors. The party's assistant secretary alleged that there have been many instances of meeting out carelessness to the patients coming to Mayo hospital. He said that the poor patients are blatantly ignored by the doctors. He said that the recent case has exposed the series of irregularities prevailing in the hospital.