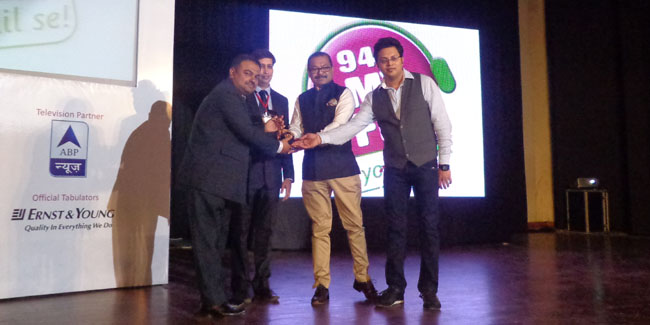 Nagpur News: Green Vigil Foundation, Nagpur has been awarded the coveted 94.3 MY FM JIYO DIL SE award in Environment & Conservation category, in a glittering award ceremony at Maharana Pratap Auditorium, Jaipur. The national  award has been provided by 94.3 My FM Radio Channel in association with its television partner ABP news.  The organization has been awarded for its outstanding contribution in the field of environment protection & sustainable development.
Chief Minister of Rajasthan, Ashok Gehlot felicitated the winners for their extra-ordinary contributions towards the society.
Kaustav Chatterjee, Co-Founder, Green Vigil Foundation received the award at Award ceremony.  Dr. Kavita Rattan, Founder Green Vigil thanked citizens of  Nagpur for voting for Green Vigil. She said that Green Vigil is making dedicated efforts to empower communities to partake in conservation efforts and hoped that the initiatives implemented by Green Vigil can help create a generation of aware citizens to ensure future sustainability on the planet. Team leader Ms. Vrushali Shrirang thanked the Green Vigil team for untiring work and well wishers of the Foundation for supporting the environmental cause.
It was tough, as it was a national competition, said Surbhi Jaiswal, Core Team Member of Green Vigil. We could not sleep the pre award night but now we are feeling top of the world, added Snehal Patil, another core group member.  We always play as a team, hence, we win, said Sandesh Sakhare , a overjoyed  Core tem member.
Mr. Manish Kumar & Mr. Rajnikant of My FM Nagpur congratulated Green Vigil for getting prestigious Jiyo dil Se Award.