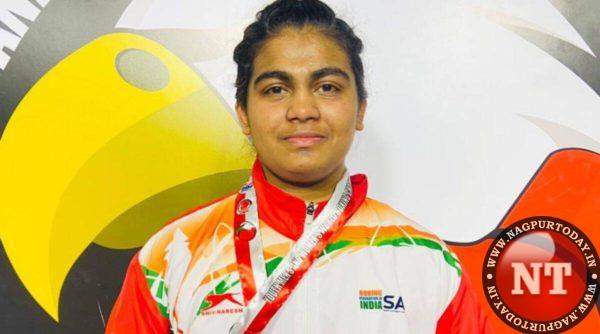 Nagpur: One of the country's top-rated boxers in the heavyweight category – Alfiya Khan Pathan – created history by becoming the first-ever woman to win the gold medal for Nagpur University on Friday.
Former youth world champion Alfiya lived up to her reputation to claim the yellow medal in Khelo India University Games on Friday. While representing Nagpur University, Alfiya defeated Swati of Chaudhary Ranbir Singh University 5-0 in the final of +81kg category at Gautam Buddha Nagar, Uttar Pradesh.
The Nagpur-based international boxer's first appearance at the Khelo India School Games was in 2018, where she had won a gold medal in the +81kg category. After 6 years, she claimed the same prize, this time playing in the Khelo India University Games.
After winning her first gold in the 2018 Khelo India School Games, Nagpur's 20-year-old boxing star became eligible for a monthly scholarship of Rs 10,000.
Alfiya was considered favourite to finish at the top of the podium in her weight category at Gautam Buddha Nagar. She got a walkover in the semifinal on Thursday.
Last year, the Nagpur boxer had successfully graduated to the senior category when she became the first woman boxer from Maharashtra to win a gold medal at the ASBC Asian Elite Boxing Championship in Jordan. However, she missed the World Boxing Championship held in the national capital in March this year.
A student of Saraswati College, Alfiya, who played under the guidance of NIS coach Ganesh Purohit, participated in the 81 kg category. Alfiya has previously won a title in World Youth Boxing and a gold medal in the Asian Women's Championships.