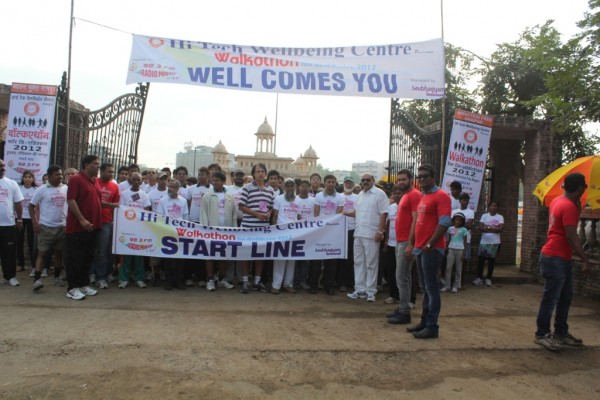 Hi- Tech Wellbeing Centre, in an attempt to raise awareness about the evils of addiction and the ways to curb it, organised a Walkathon for Deaddiction for citizens of all ages on Sunday, November 4. The response was tremendous as men and women of different age groups put their best foot forward the cause.
The walkathon began from Kasturchand Park and covered three different routes 3 km, 5 km and 9 km in length, all three culminating at the starting point. Nagpur Today was the E-news Partner for the event. The event was graced by Sudhakar Deshmukh (MLA, West Nagpur), Sudeep Jaiswal (President, Bar Association), Immanuel Singh (Station Head, Radio Mirchi), Sanjay Jog (General Manager, Times of India) and Sandhya Gotmare (President, ZP) as guests.
Dr. Suresh Sharma, an acupuncturist, came first in the 3 km route. "If I can win this walkathon at the the age of fifty five, the young can do it, too", he said.
Milind Chane, the winner of the 5 km route, said enthusiastically, "I walk 10 km everyday, and take my heath very seriously".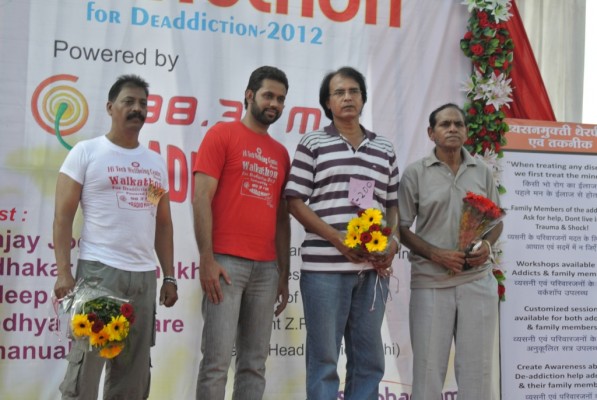 It was very heartening to see college students Harpreet Sohal, Neha Das and Rishabh Parashar take up the cause as seriously and enthusiastically as sixty year old homemeaker Meena Thakkar and 79 year old retired competitive runner B.T Deotale.
The event was powered by Radio Mirchi 98.3fm
The main objective of the event was to make people aware about the advanced therapies and techniques availabl for De-Addiction.
Mr. Aliakbar Shabbir, one of the directors of Hi Tech Wellbeing said three pointer
1. When treating any disease we first treat the mind.
2. Even the family members of the addict need therapy and recovery techniques.
3. There are customised packages available according to the clients availability and it's not mandatory to attend 30 days or any such programmes but the client should be willing to quit the addiction.
The techniques available for deaddiction are Emotional Freedom Techniques, Matrix Reimprinting, META-Health, META- Healing Process, Neuro Linguistic Programming, Hypnosis, Inner Child Healing, Rebirthing Breathwork, Past Life Therapy, Meditation and Yoga.
The walkathon was followed by skit and dance performances by organisers to sensitise participants about the cause of deaddiction. Members of the Rotary Club were also present at the event and appreciated the effort.