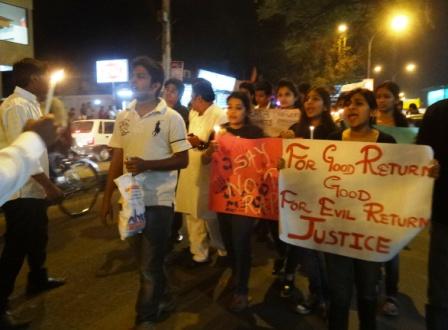 Nagpur News: Around two hundred citizens of Nagpur city took out a candle march from Shankar Nagar Square to Law College Square on Saturday to express their outrage at the blatant rape of a twenty- three year old girl in a public bus in New Delhi.
While the crowd consisted mainly of college students, including students who sit for their University exams on Monday, senior professionals, NGO workers from Run Foundation and representatives of political parties like the Maharashtra Navnirman Sena as wll as from the Film Certification Board of India also made their presence felt in the crowd that raised slogans like "Real men don't rape" and carried placards stating "We demand security, not lessons in morality" and "Rather than restricting a woman, restrict a rapist".
"The same students who are protesting here today will disperse all over India for higher educaton and jobs tomorrow. We are not protesting as Nagpurians, but as Indians. We want every city in India to be safe", said student Arpit Agrawal.
GHRCE students Supriya and Bhagyashree blame the law and order situation and the attitude of the police force for the incident, "Though Nagpur is comparatively safer, cases of eave- teasing are very common and on the rise", they said.
Student Amit Diware, on the other hand, was slightly more forgiving, "I think the law- and- order system needs a revamp," he said, "The ratio between policemen and the population of a city is very small. One man can only oversee so much. We need to strengthen our police forces."
Raising her voice as high as the young students around her was Content Coordinator Yogita Ingle, who said, "Rape cases are on the rise everywhere. The incident is as much a fault of the society as of the law- keepers and police. Nagpur is comparatively safer, but men everywhere seem to be turning into fiends".
The candle march ended at Law College Square, where protesters filed a petition demanding capital punishment to rapists which is to be sent to the Municipal Commissioner of Nagpur.
– Meghna Majumdar