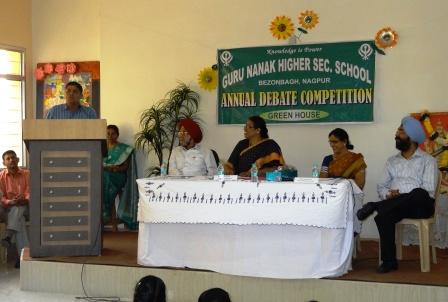 Nagpur News: Gurunanak high school & junior college, Bezonbagh, implemented a novel idea to encourage public speaking among its students, by conducting an annual debate competition that saw teachers competing with each other for the winning title, while students looked on and cheered.
Junior as well as senior teachers of the institution debated on nine relevant and sensitive questions faced by the country today, such as "Should religion be taught in schools?", "Is the mid- day meal scheme needed in urban areas?", "Is FDI a curse or boon for Indian economy?" and "Should children be made to work for their parents' dreams or their own?"
Mrs. Jagdeeshan, retired headmistress of Saraswati High school and Chairperson of the programme, stressed the need of such programmes being organised in all schools. The panel of judges included Asawari Shenolikar from The Hitavada , Abhishek Choudhari from The Times of India, Varsha Tiwari from Dainik Bhaskar, Meghna Majumdar from Nagpur Today, Shri. S.S.Gedam, Principal P.M.S school, Mrs Aswani and Mrs. Fulwani, Senior teachers from Sindhi Hindi High school. Principal Dr.Jaspal Singh proposed a vote of thanks and exhorted the students to learn something from the opportunity and utilize it in grooming themselves for the future.
The programme was graced by the presence of S.Parshan Singh Kalsi, Ex-MLC and Secretary The Sikh Education Society, Mrs. Hanspal, Vice Principal, Mrs. Divecha, Supervisor, teachers of Shri Harkrishan Public school, teaching as well as non teaching staff of Guru Nanak High School and Jr. College and students. The programme was organised by Green House. Organisers A.R.Harkare, Mrs. Jaspal kaur, S.Singanjude, Mr. Wadbudhe, Mr. Adakane and S. Dongre worked hard to make the programme success. The programme was compeered by M.B.Shrivastav while Dr. Singh proposed vote of thanks.
Results of debate were as follows-
Best debaters- R.K. Sethi and S.K. Arora on the topic- "Can money buy everything in life?"
Best speakers- H.K.Sandhu, Yogini Datke and B.S.Gomase
Best Idea- V. Shiporkar on the topic-"Is FDI a curse or boon for Indian economy?"